Never miss the most important e-commerce industry news.
Free delivery to your Inbox every Monday. Brought to you by Paul Drecksler and BigCommerce.
Industry Professionals
Keep up with the latest happenings & trends in e-commerce.
Investors
Get financial insight into notable
e-commerce companies.
Merchants
Learn things each week that help your e-commerce business grow.
"Love this newsletter! Has been super informative since I've started a business in the Shopify space."
"Shopifreaks is great at informing and entertaining me when it comes to keeping on top of what's happening with ecommerce."
"Fantastic summary of weekly e-commerce news! The newsletter is well curated with an array of information in a concise and easy to comprehend format which even a beginner like myself can understand."
"This is my go-to resource for all things E Commerce. Extremely informative and comprehensive. The curated news is super current, finger on the pulse, and predictive as well."
"The emails are very well written, lots of great relevant information in the e-commerce community that is quite interesting and even helpful. Paul also gives his own opinions and unfiltered thoughts on each topic, which is something I really appreciate in an article."
Brian (The Nostalgia Den)
⭐⭐⭐⭐⭐
"Great newsletter. I hate getting e-mails but this is one of the few that I take the time to read."
"I've been enjoying your Shopifreaks newsletter, keep up the good work. Can't believe no one before you came up with the idea of a Shopify-centric email newsletter. I really like it."
"Paul is very clever and easy to read every week. I recommend that."
"All of it is good, keep going!"
"Great information with true, positive energy behind the writing."
"I love Shopifreaks. Keep me up to date with ecom news, easy to digest, and funny!"
"Great newsletter to keep up to date on what's going on in ecommerce, and quite comprehensive. Always enjoy seeing the newsletter show up my inbox."
"Love this newsletter. Subscribed last year and it's been a fantastic resource for staying on top of the ecommerce trends and developments. Specifically, I value the comprehensiveness and deep context. I never feel like Paul misses a major story (some issues there's a lot to cover) and each story gets placed into the broader ecommerce landscape. I highly recommend subscribing."
"Paul's newsletter is a great rundown of all the latest ecommerce news, and I appreciate his analysis as well."
Shopifreaks is like Morning Brew, The Hustle, and TLDR — but for people who care about the e-commerce industry.
Our goal is to bring you the most valuable industry news in a short weekly e-mail every Monday afternoon.
We highlight the latest happenings in the world of e-commerce including new advancements, partnerships, integrations, seed rounds, startups, public offerings, as well as major news surrounding Amazon, BigCommerce, Shopify, eBay, Etsy, Meta, and the other big players in tech-commerce.
Shopifreaks launched in Jan 2021 and has grown each week through readers sharing our newsletter with their networks, which is the best compliment we can receive as a startup.
In July 2022, we entered into a one year agreement with BigCommerce to sponsor our newsletter.
Subscribe to Shopifreaks today — and I'll see you next Monday!
Sincerely,
PAUL DRECKSLER
PS: Still undecided? Check out our most recent newsletter to see if this is the type of e-mail you'd like to receive in your Inbox each week.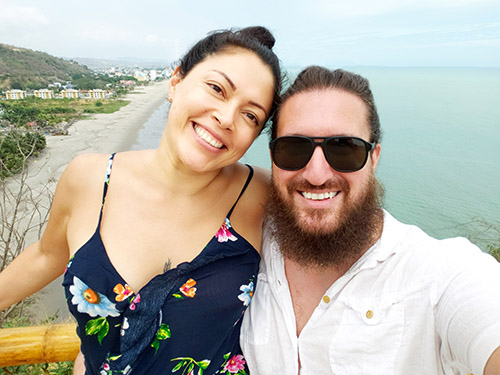 That's me, Paul Drecksler, and my girlfriend Delfy. Hola!
Our Sponsor: Shopifreaks is now brought to you by BigCommerce! Brands big and small looking for a fully customizable e-commerce platform that offers product and catalog personalization and feature flexibility choose BigCommerce. Before we get into this week's top...
Join Shopifreaks Right Now!