---
Is it just me who feels this way — or is it best that your employer is NOT also your bank? Even if I worked for JP Morgan, I'd still probably bank with Wells Fargo or elsewhere because who wants their employers to have so much access to their finances?
In this week's 88th edition of the Shopifreaks E-commerce Newsletter, I cover some recent advancements in Walmart and Apple's banking endeavors, the challenges that carriers are facing this holiday season, and Spotify's leap from music and podcasts into stories.
I also share insights into the future of conversational commerce, a new ad format from Meta, as well as Shopee's plans to reach self-sufficiency.
All this and more in this week's edition. Thanks for reading and sharing!
PS: Are you enjoying the newsletter? If so, please take a moment and write me a review on Google. Thanks!
---
Stat of the Week
Online videos in 2022 will make up more than 82% of all consumer Internet traffic — a 15% increase from 2017. — According to Cisco.
Honestly, the way that TikTok exploded during the pandemic, I would've guessed a bigger increase since 2017! Perhaps we were watching just as much video content online a few years ago, and only the medium has changed.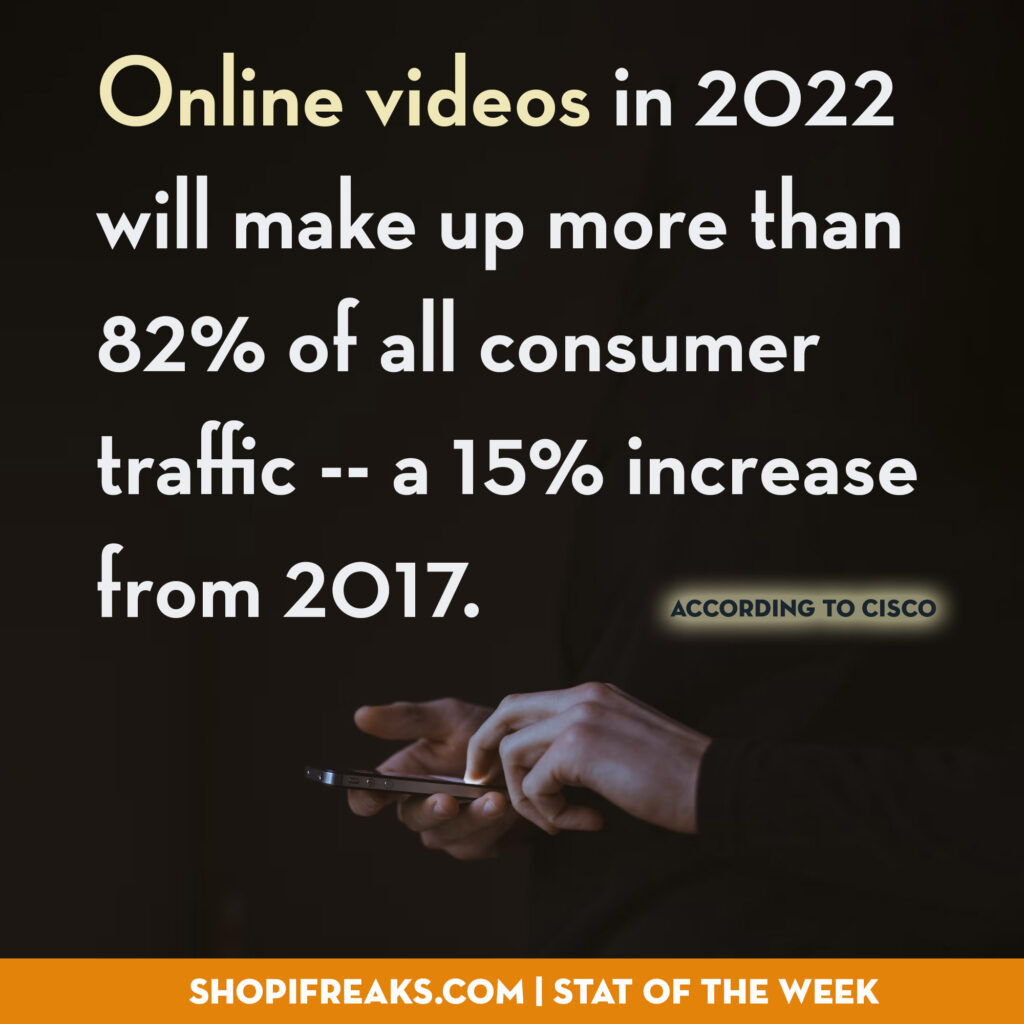 Share this week's stat on Twitter & LinkedIn.
---
1. Walmart's secretive fintech is coming out of stealth
ONE, a fintech backed by Walmart, will introduce checking accounts to thousands of Walmart employees and a small percentage of its online customers for beta testing in the coming weeks. Walmart ONE first took shape with the acquisitions of Even Responsible Finance and One Finance earlier this year.
ONE plans to make the accounts available to all of Walmart's 1.6M employees within a year before rolling out services more broadly. It also hopes to expand its offerings to loans and investments.
Walmart has long offered MoneyService stations at its stores, providing customers with check cashing, tax prep, transnational money transfers, and more. A direct, in-house banking system, however, could present an entirely new era for the company and open new avenues for collaboration between retail and banking.
With over 5,300 physical stores across the US, Walmart already competes with the number of banking locations of all four major banks including JP Morgan Chase, CitiBank, Wells Fargo, and Bank of America.
From an employee perspective, I can see the pros and cons. On one hand, who wants their employer controlling access to their money before and after they earn it? However, on the other hand, Walmart can offer store employees incentives like instantly clearing checks, getting paid via direct deposit at the end of every shift, paycheck advances, and more.
And then from a customer perspective, imagine the possibilities of banking with your favorite retailer. Cashback on ACH payments from ONE checking accounts, cash withdrawals from any Walmart location, Walmart-to-Walmart cash transfers to other members, and more.
Business Insider recently profiled ONE's top 13 execs to highlight their extensive banking experience:
Omer Ismail, chief executive officer – former Marcus executive, two decades at Goldman Sachs.
David Stark, chief operating officer – another former Goldman partner to make the leap from Marcus to ONE.
Mitch Hochberg, chief compliance officer – yet another former Marcus exec to come to ONE, after six years at Goldman Sachs. Previously cofounded Fenway Summer, a venture capital firm.
Brian Hamilton, chief commercial officer – ONE's cofounder and former CEO, joined Walmart after the acquisition. Former senior VP at Capital One.
Laura Nadler, chief financial officer – former CFO at Minted and CFO of Afterpay North America and senior roles at Visa.
Raffi Vartkessian, head of operations – 12 years experience at Apple as head of business operations for Apple Pay.
Samantha Goldman, brand and marketing lead – brand and marketing lead for One, after previously serving startups like Lyft, Citi, and Castlight Health.
Tom Hoare, chief corporate affairs and administrative officer – previously held senior marketing and communications roles at BNY Mellon and SAP.
Olivia Bishop, engineering lead – transitioned from he role as head of engineering at Even, and previously worked as a software engineer and manager at Facebook.
Mike Barreiro, chief technology officer – previously held the same title at One prior to its acquisition and merger with Even. Formerly VP of the neobank Azlo and VP of tech for SkySlope.
Emily Chardac, chief people officer – previously founded and ran her own hiring and human resources consulting firm for tech and finance firms.
Zach Kennedy, head of design – formerly spent a year as head of design at DNA testing company 23andMe.
Evan Goldschmidt, product lead – formerly Even's chief technology officer for seven years prior to its merger with ONE, and before that worked at Google for four years
If ONE's executive team is any indication of Walmart's future into banking, I'd bet that they mean business!
---
2. The challenge for delivery companies this holiday season
Major delivery companies like FedEx, UPS, USPS, and Amazon struggled to keep up during the pandemic with the increased demand for home delivery, so they reacted the best way they could, by increasing the number of warehouse facilities, workers, and drivers.
However now those same companies are experiencing the opposite of last year's problem — too much delivery capacity.
Those delivery firms above can now handle 110M holiday packages per day, but that could potentially outpace demand by 18M packages per day this year. The imbalance could result in financial challenges for the carriers if they do not cut back hiring for the peak season.
So in other words, they're damned if they do and damned if they don't. Without enough staff, consumers are going to get upset that their packages are not arriving on time. And with too much staff, the carriers are going to incur additional overhead without enough packages to subsidize the expense, and that cost will inevitably get passed onto retailers and consumers.
During the 2020 and 2021 holiday peak delivery seasons, demand outstripped capacity by 7.2M and 1.3M packages per day. FedEx overestimated holiday demand last year, and many delivery contractors got stuck with the added expense of hiring workers and renting trucks they did not need.
Last week FedEx withdrew its guidance for the 2023 fiscal year, citing a "continued volatile operating environment", and announced rate hikes for next year. The company released lower than expected earnings for Q1 of its fiscal year and hopes that cutting costs and scaling back operations will help it offset a slump in global demand.
And FedEx isn't alone in having overestimated demand. I've recently reported that Amazon has been cutting staff this past year, and now has about 100k fewer employees than in the previous quarter, and down about 180k from its peak in the first quarter. They've also closed or cancelled 44 warehouses and delayed opening of 25 sites so far this year.
Last year, due to supply chain logistics issues and over-demand for delivery, I kept joking that the holidays were going to be celebrated in February. This year, you might instead have your FedEx driver knocking on your door and asking if you've got any packages you'd like to deliver!
---
3. BigCommerce now available in Google Cloud Marketplace (Sponsored)
BigCommerce today announced its launch on Google Cloud Marketplace, powered by Tackle.io, making it easier for global enterprise customers to modernize their ecommerce platform to expand audience reach and drive business growth.
With BigCommerce, enterprises on Google Cloud will have direct access to prebuilt integrations with essential Google Cloud products and Google Cloud Marketplace partner apps and services that help propel omnichannel growth, fast time-to-value and low TCO, while providing a pathway to retire their Google Cloud committed spend.
Sharon Gee, vice president of revenue growth and general manager of omnichannel partnerships, commented, "Opening our platform to enterprises through Google Cloud Marketplace gives them powerful ecommerce tools that work within the Google Cloud ecosystem to reach more people and drive sales at every stage of growth. Organizations on Google Cloud now have the freedom to customize and build solutions that work best for their unique business needs while having full control over their proprietary data, making it easier and more efficient for them to gather actionable insights that will drive their business forward."
Explore BigCommerce on Google Cloud Marketplace here. To learn more about BigCommerce and Feedonomics, click here.
---
4. Meta's new Collaborative Ads
Meta released a new ad type that enables brands to collaborate with local retail partners that sell their product in order to maximize direct response on their ads on Facebook and Instagram.
With these new "Collaborative Ads", the brand can promote its products and then redirect to a partner in the consumers' local region.
Meta explained, "These ads allow local businesses and consumer packaged goods brands to create awareness for their products next to options for people to order those same products from a local delivery service. This makes it easier for you to purchase the grocery items you need or your next meal when you discover it."
To run a Collaborative Ad, brands first need to find a participating business in each region that sells their products, which can be done via Meta's retailer directory or sales team.
Meta reported that fast-food chain Wendy's saw early success using Collaborative Ads for local delivery by reaching consumers who had shown previous interest in their products on Grubhub to drive high-value conversions.
On one hand – cool. I like the idea of Meta introducing ad formats that can cross-connect businesses. Just last week on my LinkedIn, I was talking about a scenario on IG and FB where a brand or retailer could boost not only their own posts in the algorithm, but those of creators who tag their products. Collaborative Ads are kind of like that, except they're cross-connecting brands and platforms — a great idea nonetheless.
On the other hand – meh. The target of these Collaborative Ads seems to be food brands and local delivery services. So now the brand itself is footing the advertising cost for awareness (paying Meta) to send the customer to a local delivery service to earn the sale and own the customer (paying Grubhub). What's left for the food brand or restaurant?
While the new ad type might work well for national chains like Wendy's, I don't imagine that this will be a profitable venture for local restaurants and food brands, as the exchange doesn't leave them much (or any) margin.
---
5. Apple Pay Later will be… much later.
Apple Pay Later, the company's BNPL feature, was supposed to arrive alongside iOS 16, but that hasn't happened yet, even though the operating system is here. I first reported on Apple Pay Later in Aug 2021. At the time, Apple was partnering with Affirm's PayBright subsidiary to launch a BNPL platform in Canada, while simultaneously developing their own BNPL feature into Apple Pay.
A footnote on Apple's website states that the feature will arrive "in a future update" which may be later this year. Bloomberg's Mark Gurman predicts that the feature may not arrive until iOS 16.4 in 2023. He wrote, "I'm hearing there have been fairly significant technical and engineering challenges in rolling out the service, leading to delays."
Strategic partnerships may also be playing a role in the delay. Apple plans to end its partnership with Goldman Sachs – which currently handles credit checks and lending for Apple Card – and move its financial services in-house under its new Apple Financing division in time for the arrival of Apple Pay Later. The timeline of this relationship split could also be delaying Apple Pay Later.
In other Apple news, the company is planning to increase the price of apps and in-app purchases in Chile, Egypt, Japan, Malaysia, Pakistan, Poland, South Korea, Sweden, Vietnam and all countries that use the euro. The new rates could come into effect as early as 5 October.
Why the price increase? Apple did not state a reason behind the move other than noting new regulations for Apple to collect and remit taxes in Vietnam. However it is likely that the changes are due to currencies performing weakly against the U.S. dollar.
TechCrunch reported last week that the average price of in-app purchases on the App Store has jumped 40% YoY in 2022. Apple also recently hiked the price of the new iPhone 14 series in a number of markets, including European countries, even though it kept the price the same as the iPhone 13 in the US.
---
6. Why cCommerce hasn't taken off yet
Conversational commerce, or cCommerce, allows customers to interact with merchants through chat apps and then complete purchases without ever leaving the messaging interface.
Last month I reported that Jio Platforms was bringing grocery shopping to WhatsApp in what they said was a global-first end-to-end shopping experience on the platform. India's 500M WhatsApp users will be able to browse JioMart's grocery catalog directly within the app, add items to their cart, and make the payments via local payments rail UPI without ever leaving WhatsApp.
Even though we're starting to see the beginning of cCommerce take shape with ventures like the above, some people ask, "Why isn't it bigger?"
Rev Reddy of AIthority shared some insights into why conversational commerce hasn't taken off (yet), which I'll recap below:
Mobile and SMS marketing weren't well utilized by D2C brands. Since traffic still predominantly came from desktops as recently as 2015, D2C brands focused on e-mail outreach rather than expanding to SMS. However now, 3 out of 4 purchases happen on mobile, so brands are catching up with their SMS integrations.
D2C has only taken off in the past five years. Only in recent years, during / post pandemic, have brands sped up D2C adoption as they started exploring other ways to market and sell their products online. So the timing just wasn't right before.
Confusion around customer service versus sales use cases. The term "conversational" implies a level of customer service, whereas "commerce" implies a conversion event — which can sometimes be at odds with one another. Brands are now understanding better that customer service supports long-term conversions and customer lifetime value, and the two worlds are blending more naturally.
cCommerce wasn't a priority or core business model for platforms that have had the opportunity. Social media platforms have historically had business models built around advertising and not commerce. Therefore building out their technology and strategic partnerships to support cCommerce wasn't a priority.
SMS solutions have been API-oriented for developers, not marketers. Existing SMS solutions were previously designed for developers to build communication solutions (like transactional messages), not with marketers in mind. However new low-code and no-code SMS solutions are becoming more easily adopted as the tech changes.
Prior cCommerce approaches prioritized AI and chatbots for the sake of technology and not product value. Historically the tech has been a turn-off to consumers because it lacked authentic personalized engagement. Truly effective cCommerce requires a combination of automation and AI with human-powered engagement, which is now being developed.
Rev argues that cCommerce now makes more sense than ever and that brands are ripe with the opportunity to fully lean into the conversational commerce model. Live chat has the highest satisfaction level at 75% followed by e-mail at 61% and phone at 44%. The D2C ecosystem and consumer behavior have evolved far enough to support the medium.
What do you think? What other obstacles stand in the way of cCommerce becoming a major channel in our industry? Are you planning to integrate cCommerce into your business? Hit reply and let me know.
---
7. Shopee CEO's 1000-word memo to employees
Shopee, the Singapore-based e-commerce marketplace, has lost around $170B of market value since its Oct 2021 high, and is now laying off thousands of employees in an attempt to preserve cash and mitigate its inability to raise new funds.
In a 1,000-word memo sent to Shopee employees last week, billionaire founder and CEO Forrest Li outlined drastic cost-cutting measures the company will be taking, which I'll highlight below:
"Our number one objective for the next 12-18 months is achieving self-sufficiency. This means achieving positive cashflow as soon as we can."
"The only way for us to free ourselves from relying on external capital is to become self-sufficient, generating enough cash for all our own needs and projects. If we manage to do this, it will have huge implications for our future."
"In the immediate term, we must find every way we can to reduce our operating costs. The more cash we save each day, the more time we can buy ourselves to weather out this storm. Every bit counts."
"Now and into the long term, we must establish a cost-sensitive culture across our organisation. In the past, we have focused on growth first, and sometimes growth at all costs. This was not a wrong approach, as global conditions were ripe with opportunities then. But now that global conditions have changed, we too must adapt. Reining in costs will be an important priority, not just for us, but across our industry."
The CEO went on to outline some of those cost cutting measures including capping flights to economy class fares, hotels to $150/night, meal expenses to $30/day, and utilizing the most economical service option for local ride booking or taxi services. The new rules apply to every team member, including himself and the entire leadership team.
You can read the full memo here on Business Insider.
Cost cutting measures like the above really make you think — What the heck was going on over there before? $1000 dinners and first class flights?
And that question isn't just for Shopee, but the our industry in general. During a period of easy / cheap / highly accessible capital, we've seen companies in our industry BLOW through runway that could've lasted them a decade in as little as one to two years! It's felt like we've been living in an episode of Silicon Valley.
---
8. Spotify's got a new story to tell
Spotify announced that starting now, U.S. subscribers will be able to purchase and listen to more than 300k audiobook titles. Initially users will have to pay a separate fee for each book, but that doesn't necessarily mean that a subscription plan is off the table forever. Neither is an ad supported model for audiobooks.
The biggest advantage for Spotify to enter this market is their existing consumer penetration. Spotify is already used by 450M people, with 188M being premium subscribers. So it's not like Spotify needs you to download a new app to reach their audiobook catalog.
However the biggest obstacle they may face is the high cost of audiobooks with their per-book model. For example, Dave Grohl's The Storyteller: Tales of Life and Music will cost you $25.90, and Harry Potter and the Sorcerer's Stone will cost $32.90.
Whereas Audible, which offers subscriptions starting at $7.95/month gives you access to thousands of audiobooks and podcasts, but not new releases or best sellers. Currently Audible offers a catalog twice the size of Spotify's initial audiobook selection.
However the size of the catalog becomes inconsequential after a while depending on the audience. For example, I'd rather have access to 2,000 new releases and best sellers than 200k B-rate romance novels.
So which is better? Expensive new releases or cheap access to old audiobooks you don't care about? That'll be up for consumers to decide.
Currently, audiobooks represent just 6-7% of the overall book market, however the category is growing at a rate of 20% YoY.
Spotify CEO Daniel Ek said during a presentation to investors, "Just as we've done in podcasting, expect us to play to win. And, with one major player dominating the space, we believe we will expand the market, and create value for users and creators alike."
Are you a Spotify user? Will you be purchasing audiobooks from the platform?
---
9. Other e-commerce news of interest this week
---
10. This week in seed rounds, IPOs, & acquisitions….
---
What'd I miss?
Shopifreaks is a community effort and I appreciate your contributions to help keep the rest of our readers in the know with the latest happenings in e-commerce. Whenever you have news to share, you can e-mail [email protected] or hit reply to any of my newsletters.
You can also mention @shopifreaks on Twitter or submit posts to r/Shopifreaks on Reddit, and I'll curate the best submissions each week for inclusion in the newsletter.
💖 Thanks for being a Shopifreak!
If you found this newsletter valuable, please share it with your colleagues and help us grow.
See you next Monday!
PAUL
Paul E. Drecksler
www.shopifreaks.com
[email protected]
PS: I decided to sell my vacuum cleaner. All it was doing was collecting dust.
PPS: If you enjoy this newsletter, write a review on Google and Product Hunt. Thanks!