Today's 75th edition of Shopifreaks is about PAYMENTS. It's time for you to start PAYING for this newsletter! (Just kidding.)
I'm talking about payment processing solutions like Google Pay, Shop Pay, Apple Pay, PayPal, Samsung Pay, Klarna, WooCommerce Payments, GoDaddy Payments, and more.
The war between payment solutions providers is heating up. Big tech knows that this final step of the online transaction journey is where the money is at, and everyone wants a piece of the pie — even if it means creating new rivalries.
This week's newsletter dives into the Twitter scuffle between WordPress and GoDaddy for control of WooCommerce transactions and also takes a look at MercadoLibre's incredible growth to become LATAM's market leading payments app.
I also highlight some of Shopify's newly announced features including their B2B platform and Twitter integration, share a registry idea for Shop Pay app, talk about eBay's new physical vault, and more.
I hope you've been enjoying the newsletter. Thanks for being a subscriber.
PS: For news between newsletters, follow Shopifreaks on Twitter and LinkedIn.
---
Stat of the Week
8 in 10 British consumers trust a business with a website more than just social media. 59% added that they are more likely to repeat business with a well-designed or easy-to-use website, over one that isn't. — According to Squarespace & YouGov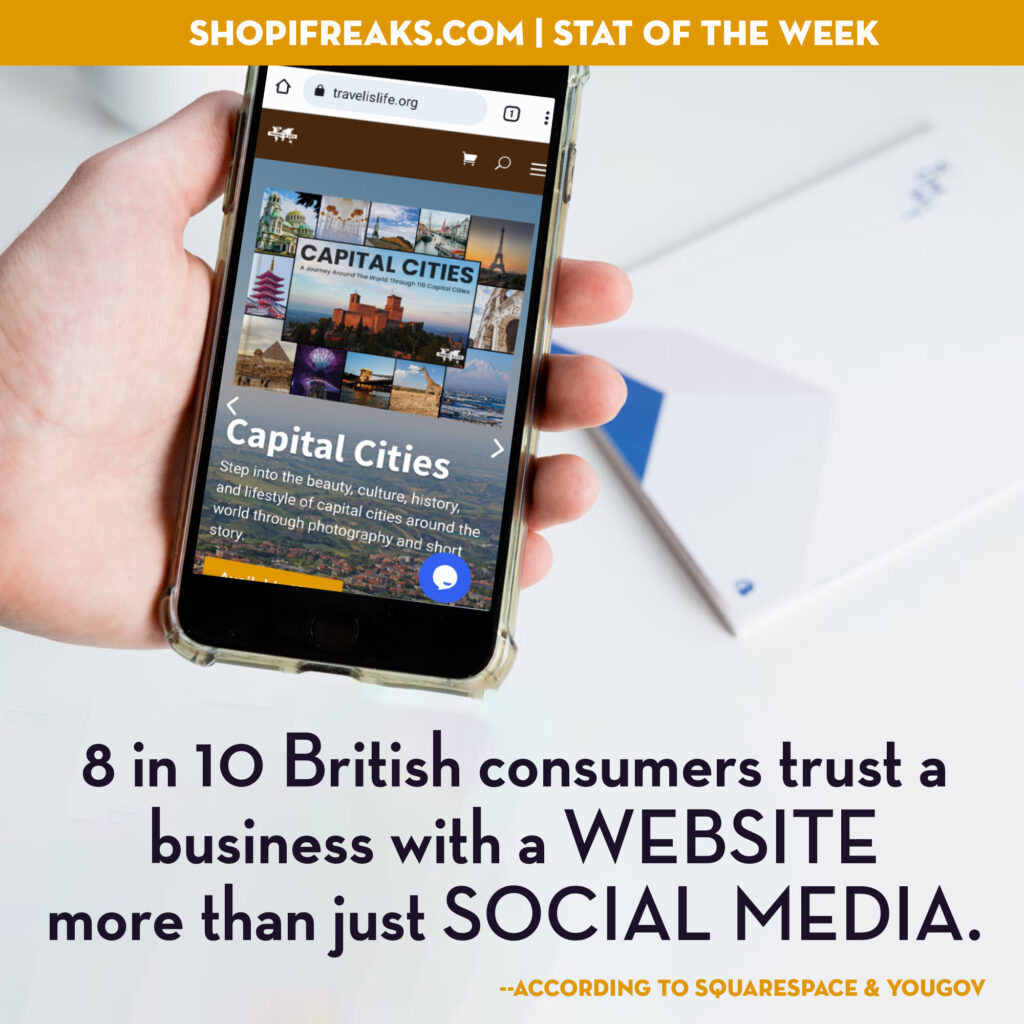 Share it on Twitter & LinkedIn
---
1. Shopify's 100 New Tools
Last Wednesday, as part of a new semi-annual product sprint called Shopify Editions, the company announced over 100 new tools and features that they've added over the past six months. Many of them, I've already reported on in previous editions of Shopifreaks, however, a few were publicly announced for the first time. I'll recap the announcement below.
B2B on Shopify – A new framework for businesses that sell to other businesses — not just for wholesale, but for retail business buyers as well. The new framework will make it easier for Shopify merchants to offer alternative payment methods and taxation for B2B customers.
Tokengated Commerce – Shopify already integrates with several NFT marketplaces, but soon they'll offer the ability to link crypto wallets directly to Shopify stores without an intermediary. Shoppers will be able to validate they own an NFT, which they can then use to unlock perks like exclusive access to online shops, products and collections.
Shop Pay on iPhones – Shopify is using Apple's tap to pay features to allow merchants to offer in-person payments with just their iPhone without any additional dongle or hardware. A few weeks ago, I reported that Square will also be supporting Apple's tap to pay.
Local Shopify Inventory on Google – The two companies have been building integrations this past year and are now taking it a step further. When customers are looking for a specific product, Google will display whether it's available for pick up locally at a brick-and-mortar store if the store is using Shopify POS. I reported earlier this year that Amazon is exploring similar capabilities with their POS systems.
Functions – A new way to attract merchants who require headless features such as the ability to customize how the site operates and looks. For example, adding dynamic options like offering discounts above a certain threshold.
Twitter Integration – Soon you'll be able to connect your Shopify store to your Twitter and display your products right on your profile with real time inventory updates. The products, when tapped, will redirect users to the Shopify product page to make a purchase. I'd imagine that this product integration will function alongside Twitter's new Product Drops feature, which I reported on two weeks ago.
Built-in Affiliate Marketing – In April I reported on Shopify's acquisition of Dovetail, which allows for a free / built-in affiliate marketing solution for Shopify merchants.
The bittersweet part about some of the new feature announcements is that Shopify will ultimately be replacing existing apps on the marketplace by offering solutions that are now built into its core platform. Those other apps can certainly continue to co-exist and differentiate themselves from Shopify's built-in versions, but that's a risky proposition given that Shopify's internal feature could outpace them at any point. Plus, it's free (or rather, included in the merchant's Shopify subscription), versus having to pay for a 3rd party app, which is a big advantage.
In March, I reported that Bolt's CEO, Ryan Brewslow, put Shopify on blast for essentially using app developers as free R&D and then taking the winning partner-provided features in-house.
Some merchants, who want to be less app-dependent and lower their monthly subscription fees, call it a win when Shopify takes a feature they were previously paying for via a 3rd party app and make it a core platform feature.
Whereas app developers who find themselves in the wake of Shopify's feature internalization sing a different tune.
It's always been, and will continue to be, a delicate balance for Shopify between doing what's best for merchants, app developers, and investors — three groups which oftentimes can have opposing agendas.
On one hand, developing new features into their core platform or acquiring / partnering with specific apps leaves certain app developers in the dust. However on the other hand, one could argue that strengthening Shopify's core product attracts more users to the platform, which benefits everyone in the ecosystem.
It's a topic that I'm sure will arise frequently as Shopify continues to grow and transition into the next phase of e-commerce.
---
2. Klarna's Loyalty Card Feature
Klarna is debuting its loyalty card feature, which will let users store and access physical cards in digital versions. The feature will be powered by Stocard, which Klarna acquired in 2021, and the loyalty cards will integrate with the Klarna app for in-store and online shopping.
This move is part of Klarna's ongoing goal of separating their brand from being exclusively known as a BNPL firm, and transition into other areas of commerce.
Klarna says that 69% of U.S. customers are more likely to buy at a store if they offer loyalty programs, and that shoppers are more likely to join a loyalty program if they don't have to carry a physical card. I can attest to that!
My regional grocer, Ingles, has the absolute worst loyalty program. When you initially register, they give you a set of plastic cards with barcodes, but your phone number is supposed to be registered "within a few weeks" so that you don't have to carry the cards anymore.
The only problem is — the numbers NEVER register! I've been waiting a year for mine, and I've tried registering twice. Why in 2022 does a loyalty program even require several weeks to register a phone number? Registration should be instant and built-in to their POS terminal. My point being that I actually shop at Ingles less because it's always such a hassle to take advantage of their loyalty program (which discounts certain items).
I could simply create a digital version of that loyalty card — and I have — however do I need Klarna for that? Nope. I just took a picture of my loyalty card and stored it in a folder in my Gallery called "Loyalty Cards" along with the rest of my scannable cards. Turns out we don't really need a separate app for everything.
---
3. WordPress vs GoDaddy
Matt Mullenweg, the CEO and founder of WordPress, made some remarks on Twitter about GoDaddy that rightfully upset some members of the company. Mullenweg identified GoDaddy as a "parasitic company" and an "existential threat to WordPress' future."
Is he right? Some could argue so. GoDaddy has certainly been guilty of some predatory practices in the past. I won't personally use them anymore for domain registration or hosting, but I wouldn't necessarily label them an existential threat to WordPress.
Mullenweg's particular reasons for blasting GoDaddy was unsettling to many members of the community, and I don't think it was a fair assessment. I'll recap what happened…
On Thursday, Mullenweg responded to an inquiry on Twitter from Jeff Matson, a Pagely (owned by GoDaddy) employee, about whether their Newspack platform, a project by Automattic and WordPress designed to share revenue across publishers, had all open open source components or some proprietary elements.
Mullenweb responded, "If you're not going to donate back to the development please skip. News orgs are already in trouble and this is not run for profit. GD is already an existential threat to WP's future."
GoDaddy employees were rightfully upset and felt that his statement disparaged their contributions to WordPress.
Mullenweg later elaborated in a series of tweets (that have since been removed) about how WooCommerce users who switch to GoDaddy Payments affects WooCommerce's bottom line. The reason is that WooCommerce doesn't make most of its revenue from selling extensions, but rather, through payment processing revenue share. And when users switch to GoDaddy Payments, they are bypassing Automattic's ability to get a piece of each transaction.
I'm a big fan of WordPress and use it for a ton of my websites including Shopifreaks.com. I try to support the community as best I can, including using WooCommerce Payments as my merchant processor on TravelisLife.org and other client sites.
However, I think that Mullenweg is unfair to criticize GoDaddy for competing in the payments space. If GoDaddy is an existential threat to WordPress for offering a competing payment solution, then what about Google Pay, Apple Pay, Facebook Pay, Shop Pay, PayPal, Prodigy Commerce, and the countless other WordPress storefronts and payment channels which bypass WooCommerce Payments? By building their platforms and payment solutions on top of WordPress, are they not also contributing to the ecosystem?
If WordPress can criticize GoDaddy for offering an internal payment system, can GoDaddy criticize WordPress for offering hosting through WordPress.com, or listing Bluehost, DreamHost, and SiteGround as their preferred hosts? In the world of technology, there's bound to be overlap between how partners monetize their product offerings.
The bigger issue is how WooCommerce makes money — primarily through payment processing — which is similar to how Shopify operates. The difference, however, being that Shopify tacks on a transaction fee to each sale for NOT using Shopify Payments, which WordPress cannot do (or rather, does not do). So offering alternative payment choices is less of a threat to Shopify's revenue.
I'd say that the existential threat to WooCommerce is their monetization strategy, because we're in a payments war right now and everyone's trying to dominate. If the future of WooCommerce relies on merchants using WooCommerce Payments, then the company is in for a rocky road ahead.
---
4. MercadoLibre's Payment Solution Is Dominating
Speaking of everyone wanting a piece of the payment space, let's talk about MercadoLibre Payments. SeekingAlpha explored how the company's payment solution is leading its growth and market dominance. Here's a recap of their findings.
MercadoLibre developed an ecosystem of six integrated ecommerce and digital payment services:
Marketplace
Fintech platform
Envios logistics services
Ads
Classifieds service
Shops.
For the sake of comparison, the author writes:
Mercado Libre: the Amazon (AMZN) marketplace of Latin America
Mercado Pago: the PayPal (PYPL) of Latin America
Mercado Envios: the Amazon delivery network of Latin America
Mercado Shops: the Shopify (SHOP) of Latin America
I would add that their Classifieds is the Craigslist / eBay / FB Marketplace of Latin America
While all of MercadoLibre's sectors have seen growth, their payments solution, MercadoPago, has evolved into a complete financial ecosystem including:
Digital payment infrastructure for e-commerce websites in Latin America (both branded and white label)
Peer-to-peer payments through their website and app
BNPL installment payments for on-and-off-marketplace transactions
Pre-paid cards and debit cards for users to spend and withdraw their account balances from their Mercado Page wallet
Money market fund enabling users to invest their balances stored in their accounts
Cryptocurrency savings wallet in Brazil
While their e-commerce platform total payment volume grew at 48% in Q1 2022, their payments growth hit 139% in the same period. This fintech side of MercadoLibre's business is already significantly contributing to the total revenues, making up 34% of all revenue in 2021.
In a space that every tech company is competing in, MercadoLibre has carved itself out an early lead in LATAM.
---
5. BigCommerce Fashion & Apparel Report 2022
BigCommerce published their first industry trend report for the fashion category, an area of commerce that's seen much disruption in recent years.
On one side of the industry, you've got companies like Shein taking fast fashion to new heights (and speeds) online, and on the other side you've got Amazon Style stores reinventing how we shop in-person.
It's an area of retail that I try and keep up with professionally, but don't have much experience with personally. As a traveler, I pretty much wear the same thing every day! Khaki pants or shorts with a polyester quick-dry shirt or one of our World Traveler Tees. I keep it simple and classic with fashion.
Here are some key findings from the report:
In Q1 2022, fashion and apparel brands' GMV grew 19% compared to a 3% increase in GMV for e-commerce as a whole.
AOV grew 3% between Q1 2021 and Q1 2022 for all ecommerce industries, whereas fashion saw a 13% increase.
Fashion stores saw a 5% increase in number of orders between Q1 2021 and Q1 2022.
Compared to last year's Q1, there was a 321% increase in inclusive GMV and a 276% increase in orders through Amazon for BigCommerce fashion merchants.
Q1 2022 saw a decline of 4% in the number of orders placed with a mobile device compared to all e-commerce retail in Q1 2021, however, GMV increased by 2%.
The report also highlights some fashion and apparel e-commerce trends in 2022, which I'll recap below:
Social commerce has become a priority. 48% of survey respondents cited social commerce as the shopping trend with the greatest impact to their overall business in 2021.
More payment options are required. 25% of respondents said offering flexible payment options, including BNPL, was impactful to their business.
Buy Online, Pick Up In-store (BOPIS) was mentioned as a big factor as well.
Customer experience remains key. 44% of respondents prioritized enhancing their customer experience through omnichannel presence, improved customer service, and better shipping options.
Other areas mentioned included optimizing the returns process, SEO, SMS, checkout optimization, and personalization.
---
6. India's $8B market for e-commerce ads
According to a new report by the consulting firm Redseer, e-commerce platforms are now the fastest growing medium for digital ads in India, with a $6-8B opportunity by 2030.
The growth in e-commerce user base is expected to be faster than search and social media platforms, with 300-350M new online shoppers expected by 2030. However that seems fairly obvious. Every Internet connected Indian already uses search and social media — foundations of our modern Internet. However an "Internet connected" Indian isn't necessarily a "financially connected" Indian –yet. But that's changing, and ultimately what will be responsible for the rapid growth of e-commerce users in the country.
India's digital ads market is expected to reach $35B in the next eight years, and e-commerce platforms will be one of the biggest contributors to the growth.
The total advertising market in India stood at $11B in 2021, out of which 37% comprised the digital ads market. E-commerce driven ads market was dominated by online marketplaces Flipkart and Amazon with 75% share, which India is hoping to change with the launch of their Open Network For Digital Commerce (ONDC).
---
7. IDEA: A registry exclusive to Shopify store owners
I don't usually profile new apps, especially when they are platform specific, but for the sake of discussion, I want to start by profiling MyRegistry.com's new Shopify app.
Once the app is added to a website, shoppers can create registry lists for their wedding, birthday, baby shower, or any other event they want gifts for. From there, the customer will have the option to merge their selected items from the Shopify site to a full MyRegistry.com universal gift list or use it as a single store list only on that website.
Realistically though, most users are going to merge their items into a universal list because it's customary for registries to include items from multiple stores — unless they register with a large marketplace like Amazon.
Although there are other gift registry apps on the Shopify App Marketplace, I appreciate this move because of MyRegistry.com's market size. Whereas previously their registry only integrated with large stores like Amazon, Bed Bath & Beyond, Crate&Barrel, etc, now all Shopify store owners can have the opportunity to have customers add their products to a registry.
Technically, people could / can add products from ANY store using MyRegistry.com, but the app makes it easier for Shopify stores to connect their products, and also lets shoppers initiate the registry creation from the Shopify store itself and later merge it with other stores.
I like it because I appreciate when smaller brands have an opportunity to be a part of a purchasing ecosystem that was typically only available to larger brands. However I feel that there's still one big missing element for small store owners — and that's discoverability.
With MyRegistry.com's new app, shoppers can add products from their favorite Shopify stores, but they have to already know about the store. There's no discovery feature at MyRegistry.com. In other words, there's not a search tool when creating a registry where I can search "bed sheets" and Shopify store product results will show up alongside Amazon and Target. Which is fine, because that's not how MyRegistry.com operates, but I also think that it creates an opportunity, and that Shopify, particularly with their Shop App, could be the one to capitalize on that opportunity.
The opportunity is to create a registry feature within the Shop App that only showcases Shopify merchant products.
This would create a new channel of discoverability for Shopify store owners, and still satisfy Shopify's criteria for what they say they DON'T want to be — which is a marketplace. They wouldn't be a marketplace in this case. They'd be a universal wish list. The actual purchases would still be happening on each individual Shopify merchant's website (like they do now through Shop App), but the Registry / Wish List would be able to seamlessly track when items are purchased and mark them off on the registry.
Plus the idea fits with Shop App's ambitions to "get personal" and "love local" by enabling brides and grooms to create registries of products from smaller and/or local brands and retailers.
And lastly, it creates a new channel of discoverability for Shopify merchants, which is what shop owners desperately need more than anything to compete in today's e-commerce landscape.
Currently I can search for products through the Shop App (which is a nice start), but I've got little reason to share what I find. A built-in registry / public wish list feature would create that opportunity while still empowering each individual Shopify store to continue operating independently.
What are your thoughts? Would a registry / public wish list be a good idea for the Shop App? Hit reply and let me know.
---
8. ebay Vault
eBay launched eBay Vault, a new 31,000 sq.ft. temperature controlled facility for collectors to store their physical collectibles, beginning with graded trading cards valued at over $750.
Once an item is in the eBay Vault, "instant sales" becomes an option where ownership can be transferred from seller to buyer without need to re-authenticate or ship the item.
In addition to instant sales, Vault offers benefits like authentication, insurance, fractional ownership, insured shipping and a tax free storage location – and the company says it gives collectors "peace of mind" and "unprecedented control" over their assets.
Does it though? A vault is only as secure the trustworthiness of whoever holds the key. Is eBay a trustworthy enough company to store your valuables? That's for you to decide.
By 2023, the eBay Vault will expand to include additional collectibles categories and luxury goods. The company expects to hold up to $3B in assets within a few years, making it one of the largest stores of non-governmental assets in the world.
I do think that the idea is quite brilliant, however, it all comes down to the execution. And I'm not sure if eBay is the right company to execute. Given how scattered ownership of the company is at this point, and how they've historically entered and exited markets at the drop of a hat, I'd be nervous to build a reliance on storing my valuables in their Vault without having a backup solution in place. I'd be scared that one day I'd receive a letter that says, "Dear eBay Vault Users, we are writing to inform you that we are shutting down our Vault operations. Your items will be shipped to you tomorrow at your expense to your address on file."
However the idea of being able to buy, sell, store, and insure physical collectibles in a secure environment is a pretty fascinating business model. It kind of turns physical collectibles into NFTs, in that you can own the item but not possess it, yet still sell it. Gold IRA companies have been doing similar for years. It's interesting to now see that model come to life for other types of physical valuables.
---
9. Other e-commerce news of interest this week
---
10. This week in seed rounds, IPOs, & acquisitions….
Global-e, a cross-border solution for brands and retailers to sell internationally, entered into a definitive agreement to acquire Pitney Bowes, a global shipping and mailing company that helps retailers enter new global markets by simplifying compliance and regulations processing. The acquisition is expected to strengthen Global-e's offering and solutions for large enterprises, and both businesses will benefit from the combination of each other's capabilities.
Deals Incorporated, a Manchester-based e-commerce retailer that sells goods imported from China and India through eBay and Amazon, has been put up for sale with an asking price of £1.6M. The sale includes the operating company and its Cheetham Hill leasehold premises.
Bttn, an online marketplace that sells healthcare products to medical professionals and long-term care facilities, raised $20M in a round led by Tiger Global at a $110M valuation. Bttn says it specializes in serving "alternate-site" health care providers that operate outside of hospitals including dermatologists, dentists, physicians and long-term care facilities.
eBay acquired KnownOrigin, a UK-based NFT marketplace for an undisclosed amount. The acquisition is part of eBay's ongoing "tech-led reimagination" which includes the debut of a digital wallet, commerce tools, and eBay Vault.
Hokodo, a London-based BNPL firm for e-commerce, raised $40M in a Series B round led by Notion Capital. The new funding will help them complete their mission of enabling 1M businesses to access better payment terms by 2025.
Red Arts Capital, a Chicago-based privacy equity firm, acquired Coregistics, a supply chain solutions, design, and logistics company, for an undisclosed amount. According to Red Arts Capital, Coregistics is well-positioned to provide 3PL services to the U.S. market to compete in the growing e-commerce sector.
Colendi, a multifunctional BaaS platform, acquired SETL, a blockchain settlements and payments provider, for an undisclosed amount. The acquisition is intended to help bolster Colendi's Web3 offerings.
Parallelz, a startup that helps native apps convert to web apps without loss of quality, raised $3M in a pre-seed round from Ed Baker (VP of Growth at Uber), Ryan Hoover (ProductHunt founder), and Andre Charoo (Maple VC general partner), as well as other investors. Parallelz wants you to have a complete experience on the web without installing native apps, while simultaneously creating a universal competitive app marketplace to the Google and Apple app stores. I applaud the mission. The only thing I fear is that Apple and Google still control access to the Internet in general on their phones and could make it difficult on web apps in the future to exist outside of their approved ecosystems, probably by citing "security" issues with the web apps.
LogRocket, a provider of software frontend monitoring and analytics services, raised $25M in a Series C round co-led by Delta-V Capital and Battery Ventures. The company will put the proceeds towards R&D and expanding the size of its team from 130 to roughly 180 by end of the year.
Thepeer, an API-based startup that connects African businesses' wallets, raised $2.1M in a seed round led by Raba Partnership, just one year after raising $220k in a pre-seed round from angel investors. The company's API provides an alternative network for fintechs and businesses to embed different sets of products into their applications and websites for easy money movement by their customers.
Flip, an Indonesia-based consumer payment platform, raised $55M in a Series B extension round with Tencent, Block, and Insight Partners, following its $48M Series B in December, bringing its total amount raised to $120M at an undisclosed valuation. Flip has helped over 10M people in Indonesia access financial transactions including interbank transfers to more than 100 domestic banks, e-wallet top-ups and international remittances, enabling users to send money from Indonesia to 45+ countries.
Wingcopter, a drone delivery company, raised $42M in a Series A extension round, tripling the company's total equity raise to over $60M. The new funding will be used to expand its drone delivery services, as well as increase production of its Wingcopter 198 eVTOL delivery drone, which recently met the Federal Aviation Administration's (FAA) Airworthiness Criteria.
Cashify, an India-based marketplace for gadgets trade-ins and buybacks, raised $90M in a Series E round led by Prosus Ventures and NewQuest Capital Partners, bringing its total amount raised to over $130M. The company will use the funds to expand its team, which its been cautious of in the past because it hasn't wanted to cut its workforce in uncertain times.
SleekFlow, an omnichannel social commerce platform that helps businesses build customer flow automation including messaging, live video, and transactions, raised $8M in a Series A round led by Tiger Global Management. The company aims to merge conversations, product catalogs, payment solutions, and order management into one platform for businesses.
SumUp, a London-based fintech used by over 4M small and medium businesses, raised €590M in a round led by Bain Capital Tech Opportunitites. The funds will be used for acquisitions, expanding its team, and organic product development. The company has raised around €1.5B in the last 10 years, but mostly as debt.
Playter, a London-based BNPL platform aimed at SMEs, raised $55M in a round led by Adit Ventures and Fasanara Capital, following a $1.7M seed round in March. The funding is a mixture of equity and debt.
---
What'd I miss?
Shopifreaks is a community effort and I appreciate your contributions to help keep the rest of our readers in the know with the latest happenings in e-commerce. Whenever you have news to share, you can e-mail [email protected] or hit reply to any of my newsletters.
You can also mention @shopifreaks on Twitter or submit posts to r/Shopifreaks on Reddit, and I'll curate the best submissions each week for inclusion in the newsletter.
💖 Thanks for being a Shopifreak!
If you found this newsletter valuable, please share it with your colleagues and help us grow.
See you next Monday!
PAUL
Paul E. Drecksler
www.shopifreaks.com
[email protected]
PS: The genie asked, "What's your first wish?" Steve answered, "I wish I was rich!" The genie continued, "What's your second wish?" "I want a nice long life!" responded Rich.
PPS: Don't forget to show me some love on Google and Product Hunt. Thanks!