Today's 75th edition of Shopifreaks is about PAYMENTS. It's time for you to start PAYING for this newsletter! (Just kidding.)
I'm talking about payment processing solutions like Google Pay, Shop Pay, Apple Pay, PayPal, Samsung Pay, Klarna, WooCommerce Payments, GoDaddy Payments, and more.
The war between payment solutions providers is heating up. Big tech knows that this final step of the online transaction journey is where the money is at, and everyone wants a piece of the pie — even if it means creating new rivalries.
This week's newsletter dives into the Twitter scuffle between WordPress and GoDaddy for control of WooCommerce transactions and also takes a look at MercadoLibre's incredible growth to become LATAM's market leading payments app.
I also highlight some of Shopify's newly announced features including their B2B platform and Twitter integration, share a registry idea for Shop Pay app, talk about eBay's new physical vault, and more.
I hope you've been enjoying the newsletter. Thanks for being a subscriber.
PS: For news between newsletters, follow Shopifreaks on Twitter and LinkedIn.
---
Stat of the Week
8 in 10 British consumers trust a business with a website more than just social media. 59% added that they are more likely to repeat business with a well-designed or easy-to-use website, over one that isn't. — According to Squarespace & YouGov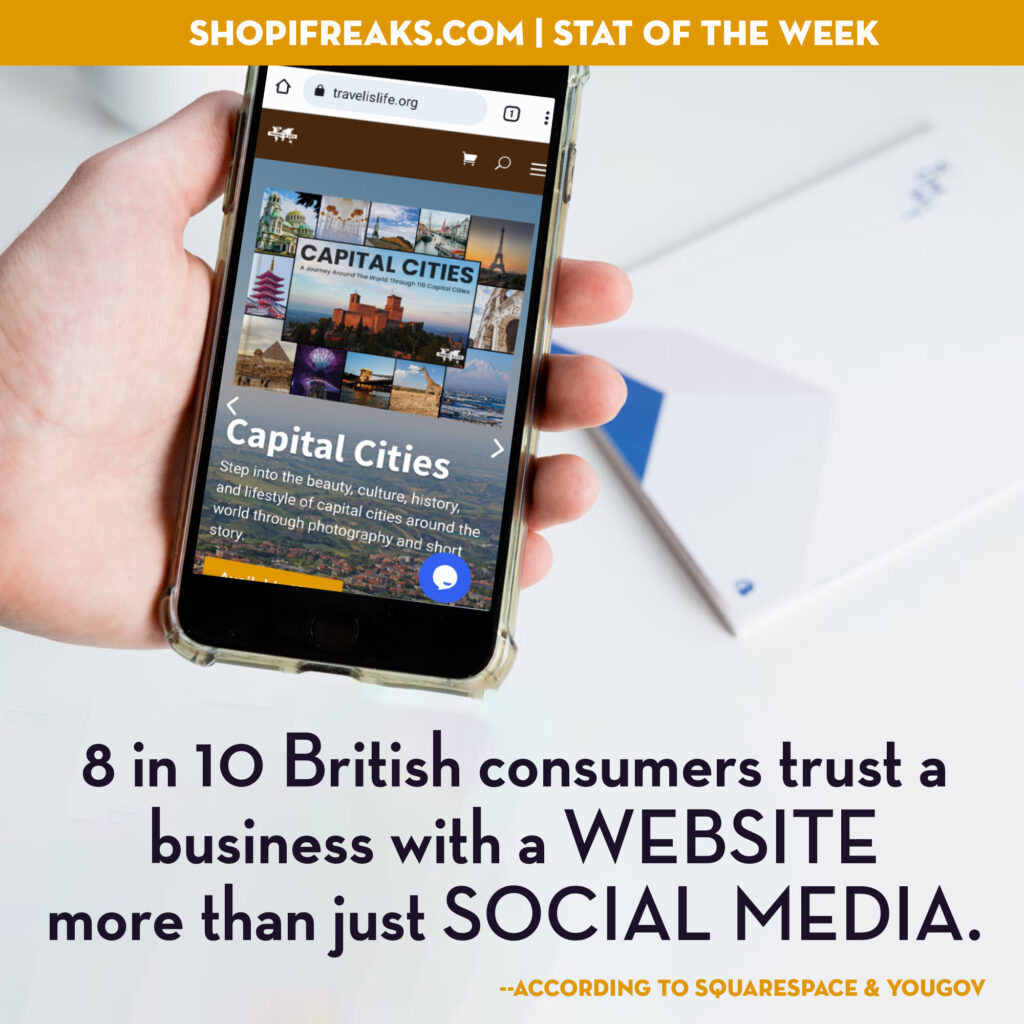 Share it on Twitter & LinkedIn
---
1. Shopify's 100 New Tools
Last Wednesday, as part of a new semi-annual product sprint called Shopify Editions, the company announced over 100 new tools and features that they've added over the past six months. Many of them, I've already reported on in previous editions of Shopifreaks, however, a few were publicly announced for the first time. I'll recap the announcement below.
B2B on Shopify – A new framework for businesses that sell to other businesses — not just for wholesale, but for retail business buyers as well. The new framework will make it easier for Shopify merchants to offer alternative payment methods and taxation for B2B customers.
Tokengated Commerce – Shopify already integrates with several NFT marketplaces, but soon they'll offer the ability to link crypto wallets directly to Shopify stores without an intermediary. Shoppers will be able to validate they own an NFT, which they can then use to unlock perks like exclusive access to online shops, products and collections.
Shop Pay on iPhones – Shopify is using Apple's tap to pay features to allow merchants to offer in-person payments with just their iPhone without any additional dongle or hardware. A few weeks ago, I reported that Square will also be supporting Apple's tap to pay.
Local Shopify Inventory on Google – The two companies have been building integrations this past year and are now taking it a step further. When customers are looking for a specific product, Google will display whether it's available for pick up locally at a brick-and-mortar store if the store is using Shopify POS. I reported earlier this year that Amazon is exploring similar capabilities with their POS systems.
Functions – A new way to attract merchants who require headless features such as the ability to customize how the site operates and looks. For example, adding dynamic options like offering discounts above a certain threshold.
Twitter Integration – Soon you'll be able to connect your Shopify store to your Twitter and display your products right on your profile with real time inventory updates. The products, when tapped, will redirect users to the Shopify product page to make a purchase. I'd imagine that this product integration will function alongside Twitter's new Product Drops feature, which I reported on two weeks ago.
Built-in Affiliate Marketing – In April I reported on Shopify's acquisition of Dovetail, which allows for a free / built-in affiliate marketing solution for Shopify merchants.
The bittersweet part about some of the new feature announcements is that Shopify will ultimately be replacing existing apps on the marketplace by offering solutions that are now built into its core platform. Those other apps can certainly continue to co-exist and differentiate themselves from Shopify's built-in versions, but that's a risky proposition given that Shopify's internal feature could outpace them at any point. Plus, it's free (or rather, included in the merchant's Shopify subscription), versus having to pay for a 3rd party app, which is a big advantage.
In March, I reported that Bolt's CEO, Ryan Brewslow, put Shopify on blast for essentially using app developers as free R&D and then taking the winning partner-provided features in-house.
Some merchants, who want to be less app-dependent and lower their monthly subscription fees, call it a win when Shopify takes a feature they were previously paying for via a 3rd party app and make it a core platform feature.
Whereas app developers who find themselves in the wake of Shopify's feature internalization sing a different tune.
It's always been, and will continue to be, a delicate balance for Shopify between doing what's best for merchants, app developers, and investors — three groups which oftentimes can have opposing agendas.
On one hand, developing new features into their core platform or acquiring / partnering with specific apps leaves certain app developers in the dust. However on the other hand, one could argue that strengthening Shopify's core product attracts more users to the platform, which benefits everyone in the ecosystem.
It's a topic that I'm sure will arise frequently as Shopify continues to grow and transition into the next phase of e-commerce.
---
2. Klarna's Loyalty Card Feature
Klarna is debuting its loyalty card feature, which will let users store and access physical cards in digital versions. The feature will be powered by Stocard, which Klarna acquired in 2021, and the loyalty cards will integrate with the Klarna app for in-store and online shopping.