Which tech company do you trust most with your health care data and medical records — Amazon, Google, Shopify, Etsy, or eBay? Or none of them? This is a question that most patients haven't had to think about before, but the answer is now becoming a reality.
In this week's edition, I cover Amazon's acquisition of One Medical, YouTube and Shopify's new partnership, Squarespace's updated web design system, and Target's push into e-commerce (despite its lower profit margin).
I also recap two reports — one on how fintech companies are responding to rapid declines in valuation and the other about the process of selling your e-commerce business.
All this and more in this week's 79th Edition of the Shopifreaks E-commerce Newsletter. Thanks for being a subscriber!
PS: Feel free to forward my e-mails to your network if you think they'd get value from this edition. The more readers the merrier, even if they don't yet subscribe. (They might after reading!)
---
Stat of the Week
Brands lose on average $29 for every new customer acquired today, compared to $9 in 2013. Higher customer acquisition costs and rates of product returns account for the difference. — According to SimplicityDX
This means that the cost of customer acquisition and returns has outpaced inflation by 8x since 2013. Doing business online has gotten a lot more expensive.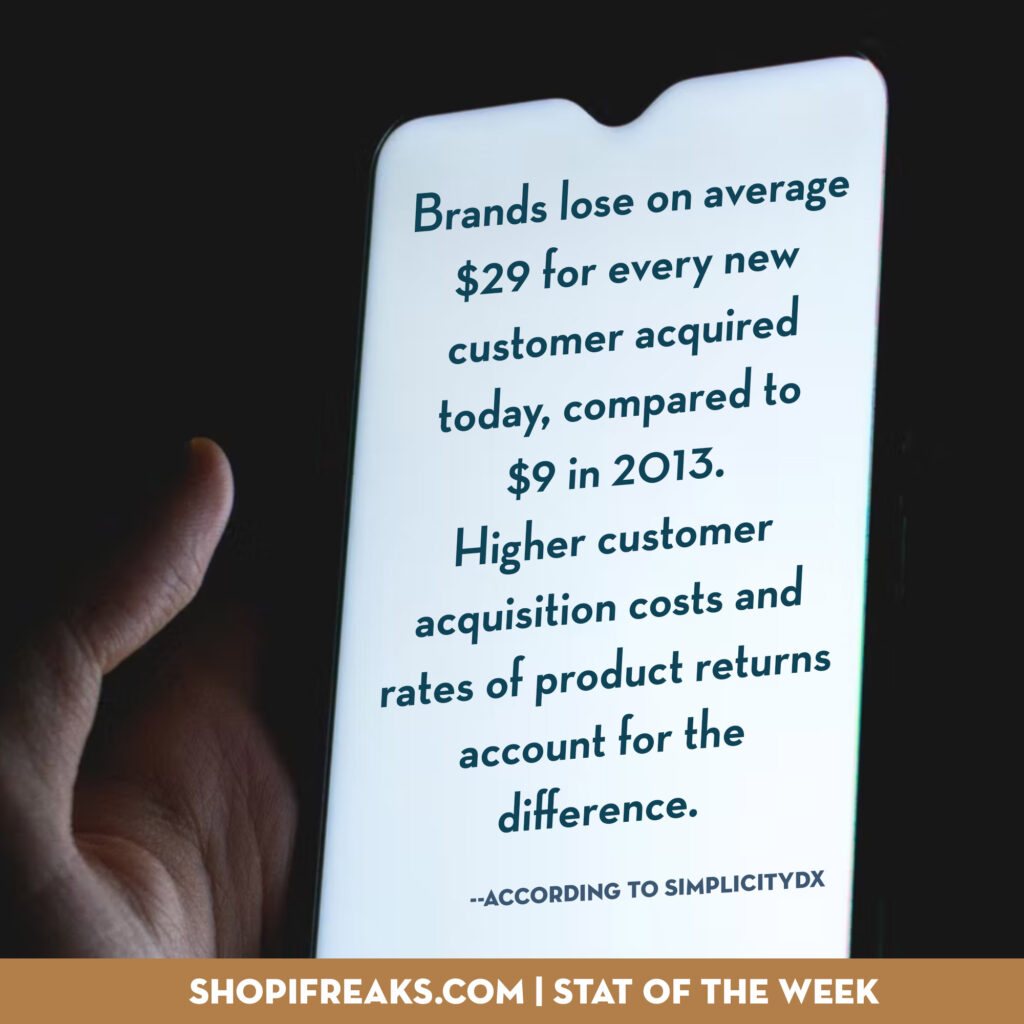 Share this week's stat on Twitter & LinkedIn
---
1. Amazon to acquire One Medical
Amazon announced its plans to acquire One Medical, a US chain of primary care clinics, for $3.9B in an all cash transaction. This is the company's first major acquisition under CEO Andy Jassy.
One Medical operates 188 medical offices, mostly in large cities, and provides virtual medical services that patients access with a $199/year membership. The company serves 8,500 employers (including Google which represented 10% of its revenue in 2020) and offers memberships directly to consumers.
The company sees about 5x as many virtual visits as in-person appointments, which is part of what made it attractive to Amazon. One Medical also built its own electronic medical records system, which now has 15 years of patient records.
Amazon has experimented with entering the health care industry in the past, however none of their investments in the space have been as big as this One Medical acquisition.
As you might recall, Amazon bought the online pharmacy PillPack in 2018 and Drugstore.com in 1999. And in 2018, it started Haven, a partnership with J.P. Morgan and Berkshire Hathaway, designed to explore new ways to deliver health care to their work forces, but the partnership officially ended last year.
In 2019, Amazon began running Amazon Care, its own primary and urgent care service, in Washington State and then nationally. The service tried to get other employees onboard, but it's had limited success.
Neil Lindsay, the senior VP of Amazon Health Services, said in a statement, "We think health care is high on the list of experiences that need reinvention."
Some annoyances of modern healthcare that he hopes to solve include: booking appointments, sitting in waiting rooms, traveling to a pharmacy, or even finding a parking spot. Amazon sees the future of healthcare as more of a virtual or online care, which companies like One Medical and Kaiser Permanente are currently doing.
While some folks applaud Amazon's deep dive into the health care industry, others are concerned about implications involving medical data and privacy. The company's official announcement did not provide One Medical clients with any comfort that their medical privacy will be paramount to the deal. Amazon later offered assurance that it will abide by government regulations under the Health Insurance Portability and Accountability Act (HIPAA), that limits how they can use protected health information.
An Amazon spokesperson later said in an email, "Should the deal close, One Medical customers' HIPAA Protected Health Information will be handled separately from all other Amazon businesses, as required by law."
While that may be true on paper, Amazon will have to convince the public that their medical data is safe and separate from their shopping data, because the first health care ad that pops up on Amazon after a visit to One Medical will certainly raise some red flags and begin the conspiracies.
---
2. YouTube and Shopify partner to add live shopping tools
YouTube and Shopify have teamed up to add live shopping tools that allow viewers to purchase products without leaving the video platform. So now, in between ads on YouTube, you get to watch creator-made ads for products!
The whole transaction occurs while a viewer is watching the video, meaning the user doesn't have to leave YouTube and go to the brand's website to make a purchase. To use the feature, merchants will need a minimum of 1000 subscribers.
Creators can link their stores, sync their inventory, and manage which products are included using the Shopping tab in YouTube Studio.
Shopify, which has similar partnerships with TikTok, Facebook, and Instagram, said it saw orders placed through these types of partner integrations quadruple in the first quarter of the year.
YouTube is also introducing a new shopping destination in Explore for viewers in the US, Brazil and India, which will feature shoppable content for viewers in these countries, with additional countries to roll out this year.
YouTube has been on a mission recently to become more of a shopping destination. In June, YouTube announced a new shoppable ads format that added browsable product images underneath the add to drive traffic directly to the brand's product pages. And earlier this month they announced that they'll be pilot testing a new feature that will allow viewers to shop for products directly from livestream videos.
---
3. Squarespace revamps its web design tools
Squarespace launched a new design platform called Fluid Engine that offers majorly improved drag-and-drop technology. This is the first big update to the company's website builder in over ten years.
The new features include fully customizable grids, full-bleed content, and a separate view that allows users to build custom mobile sites.
Prior to the new Fluid Engine, the company offered Layout Engine, a 12-column grid where users could drag-and-drop and resize widgets, which was flexible, but still presented many limitations.
The new system comes default for new users, or current Squarespace customers can convert existing pages to Fluid Engine by clicking an upgrade button within the editor.
Wix, their biggest competitor, also offers a full-bleed layout, but it's only available on Editor X, an advanced creation platform that's geared toward "professional" web designers. I could not get a comment about Editor X from any of the six professional web designers that currently use it.
Have you tried Fluid Engine yet? If so, hit reply and let me know what you think.
---
4. FedEx reduces Sunday coverage for rural communities
FedEx is planning to scale back its Sunday delivery service in remote areas of the US now that the e-commerce surge sparked by the pandemic is cooling.
The company's Ground unit will reduce coverage in rural and lightly populated areas to about 80% of the population, from 95% currently.
The 6,000 small companies that deliver packages for FedEx Ground unit have been complaining recently that they're losing money because of rising costs and called for Sunday service to be scrapped, or for an extra payment to cover the fuel, wages, and vehicle maintenance.
FedEx had accelerated the rollout of Sunday service in 2020 to handle a surge in volume, which jumped 33% for the quarter ending in Aug 2020. However in the latest quarter, the company reported that package volume fell 6.2%.
Rural community residents said, "It was good while it lasted," as they huddled outside of schools connecting to Wi-Fi in their cars, still waiting since the 90s on broadband providers to come through with their promise of delivering high speed Internet.
---
5. Target wants a bigger piece of the e-commerce market
E-commerce is currently only responsible for around 20% of Target's sales, with more than half of that coming from same-day services like curbside pickup and the rest from shipping to homes. However due to the cost of labor and transportation, these online sales are less profitable than when shoppers visit Target stores.
However target is working to chip away at the costs of fulfilling online orders and grow the e-commerce sector of their business. Here's how:
By opening three more sortation centers in Chicago and Denver to cut delivery costs and get online purchases to customers faster.
Turning store backrooms into warehouses over the past 5 years where employees pick and pack orders.
Acquiring the delivery startup Shipt in 2017.
Bringing down the average per unit digital fulfillment cost by more than 50% over the past three years.
Shortening the distance packages travel by having desired items at stores near customers.
Using delivery vehicles that can hold up to 8x more packages per route.
In June, I wrote about Walmart's 5,500 store location advantage over Amazon, which only operates a little over 100 fulfillment centers in the U.S. and only several hundred retail locations including its Whole Foods stores.. Walmart has the benefit of having thousands of fulfillment centers (ie: stores) setup around the country that already pay for themselves, of which they own the real estate on over 4,700 locations.
Target, on the other hand, only has 1,934 stores in the US and 51 supply chain facilities, which is less than half of Walmart's geographic footprint, but still gives the company a sizable advantage over Amazon in the same way.
Perhaps if they're looking to get serious about e-commerce, it's time for Target to launch a competing premium membership plan to Amazon Prime and Walmart Plus, or expand their Target Circle program.
---
6. Fintech response to falling valuations
Payment companies have been hit hard by the recent stock market correction, and the decline has put pressures on these companies to change course and/or seek profitability sooner. Companies are having to be more selective about how they allocate resources since there's no longer an unlimited venture capital funding pool to swim in.
American Banker took a look at some of the major fintechs, how their valuations have changed during the downturn, and their recent moves in response. I'll summarize their full report below. Some of these items I've covered in previous Shopifreaks editions.
Stripe lowered its valuation to $74B from $95B. They are still adding new products, such as a payment rail for creators.
Klarna recently raised $800M at a $6.5B valuation, which is an 85% drop from its 2021 valuation. The company also fired 10% of its staff. They remain active in product development, rolling out a plastic Visa debit card in June and launching a marketing campaign in shopping malls.
Affirm's stock price fell from a high of $161 in Nov 2021 to as low as $18 in May 2022, and has since rebounded to $25. The company expanded its reach through a partnership with Amazon, and also added POS technology from Fiserv to broad the functions it can offer merchants. The company also added a debit card geared toward everyday purchases, as opposed to the large-ticket items their BNPL lending caters to.
Block, which rebranded from Square in 2021, saw its stock price fall from $266 in Aug 2021 to as low as $58 in June, and is most recently trading around $66. Last year the company acquired Afterpay, an Australian BNPL firm that helped it scale its POS credit offering to match PayPal. The company also used Cash App to support financial products for merchants and consumers. Bitcoin-related business accounted for 70% of its revenue in 2021, although BTC took a dive from $68k in Nov 2021 to $19k in June, and has since recovered to around $22k.
PayPal experienced higher-than-normal rate of account growth during the pandemic, but that growth cooled from a quarterly rate of 21M new accounts in Q2 2021 to 10M by the end of 2021, of which 4.5M were found to be illegitimate. The company lowered its earnings guidance in 2022, resulting in a 24% drop to its stock price in a single day in February. Most recently, PayPal is trading around $77, down from a high of $308 in July 2021.
Coinbase debuted on Nasdaq in April 2021, closing at $310 per share on its first day, but now trades around $67. The company is adding payment products for traditional currency including a card that's available in 24+ countries.
Brex stopped services for a portion of its client base, mostly smaller businesses, in June, to focus on larger venture-backed clients. The company previously applied for and withdrew an application for an industrial bank license.
Marqeta, which powers payment acceptance for firms like Uber and Doordash, saw its stock price decline from a high of $32 in Nov 21 to $7 in May 2022, and has since recovered to $9. The company listed in April 2021 as part of a strategy to expand its ability to process physical cards. They also recently partnered with Western Union to integrate their card-issuing technology in Europe.
Payoneer reached a high of $9 in Sep 2021 and again in April 2022 before falling to under $4 in May 2022, but has since recovered to over $5. In the past couple years, the company expanded its product line, partnering with Mastercard to offer a digital card for business clients to invest in advertising. They are now looking to play a role in automating B2B payments.
Wise, formerly called TransferWise, neared $15 in Sep 2021 before falling to around $3.55 in June, and is currently trading around $4.50. Wise recently collaborated with Google Pay to expand Google's ability to support international mobile transfers. They've also added to their financial institution network through several partnerships.
Revolut ruled out going public in 2022 during the current churn in the markets. Its valuation is around $33B, following an investment round in 2021 (but I'd be curious to see what a new round would fetch in today's market). The company has been aggressively expanding its global reach, including the launch of the Revolut Reader, its first POS hardware.
---
7. How to prepare an e-commerce company for sale
With the rise of aggregators over the past few years who are ready and willing to purchase your e-commerce store or Amazon brand and run it through their portfolio, and the launch of marketplaces (including one from Shopify) specifically for buying and selling e-commerce stores, there's never been more opportunity for brands and merchants to sell.
DigitalCommerce360 published a report which you may find helpful if selling your store / brand is going to be your exit plan. I'll recap their report below, but it's worth a full read if you may be looking to sell in the future because as they say, "The best time to prepare an e-Commerce company for an eventual sale is now."
Businesses are typically valued as a multiple of EBITDA, which is a short hand for pre-tax cash flows, and multiples can range from 2-3x to 15-20x or above. Most profitable e-commerce businesses sell between 5x and 15x EBITDA.
Buyers look at the industry in which the business competes, the size of the business, potential growth, and profitability.
Other factors that drive value include proprietary products, a strong management team, accurate financials, a large customer database, a large source of qualified prospects, repeat business, high search engine rankings, high average order value, and strong reviews.
Factors that diminish value include working capital requirements, poor information systems, high vendor or customer concentration, and over-reliance on Amazon or other marketplaces.
Next they recap the process of selling an e-commerce business which includes the following steps:
Preparation of acquirers list and contact info, creating a Confidential Information Memorandum (CIM) which describe the business in detail, and writing an executive summary or teaser which is a one-page summary.
Marketing by reaching out to prospective buyers, using the teaser to entice them to sign an NDA, and evaluating the buyers.
Negotiation through asking for Letters of Intent from interested parties and leveraging offers to increase value.
Diligence and Closing involves looking at all the facts of the business including confirming sales, profits, marketing, assets, liabilities, expenses, payroll, etc.
The end of the article focuses on why you should work with an Investment Banker to sell your e-commerce business because the article was written by an investment banker, but that's not the only way to sell your company. There are also business brokers, aggregators, and marketplaces for buying/selling e-commerce brands, plus private sales.
The important takeaway from this article is really about preparation. I've seen business owners decide that they're ready to sell their business and think that it's going to be a quick process. However preparing your business for sale actually starts years in advance of even where DigitalCommerce360's guide begins. If a business knows they are going to sell, it's advisable to start focusing on cost cutting and revenue/profit driving activities several years in advance — activities which affect your EBITDA which in turn impacts the multiplier that your business can sell for.
Have you sold an e-commerce business before? What's your preferred method of sale? Hit reply and let me know.
---
8. Amazon's holistic metric to check account health
Amazon is offering sellers a new "holistic" way to diagnose their account health so that they can quickly see if their account is in danger of suspension for policy violations.
The new metric aggregates violations of Amazon policies into a single score that shows their overall account health status as Healthy, At-Risk, or Unhealthy.
Accounts marked Unhealthy can contact a nearby One Medical facility for diagnosis. (Kidding.)
Amazon had launched an Account Health Rating feature in 2020 that included At Risk and Critical designations, but the new rating is designed to help sellers better understand exactly where their account health stands and prioritize potential issues so that their account status remains healthy.
Amazon wrote on their help page, "The AHR is a color-coded score that ranges from 0 to 1,000 and provides near real-time status of your account's health, letting you know if your selling account in a particular store is at risk of deactivation. Upon detection of any new policy violations associated with your selling account, you lose points. You gain points when you successfully address those violations. All new sellers start with a score of 200, and over time, sellers will see a score that accurately reflects their account health based on policy adherence and selling activities over the last 180 days."
Amazon will begin to roll out the new holistic version of the Account Health Rating in August to US and Canadian sellers, and to the rest of the world in 2023.
---
9. Other e-commerce news of interest this week
---
10. This week in seed rounds, IPOs, & acquisitions….
---
What'd I miss?
Shopifreaks is a community effort and I appreciate your contributions to help keep the rest of our readers in the know with the latest happenings in e-commerce. Whenever you have news to share, you can e-mail [email protected] or hit reply to any of my newsletters.
You can also mention @shopifreaks on Twitter or submit posts to r/Shopifreaks on Reddit, and I'll curate the best submissions each week for inclusion in the newsletter.
💖 Thanks for being a Shopifreak!
If you found this newsletter valuable, please share it with your colleagues and help us grow.
See you next Monday!
PAUL
Paul E. Drecksler
www.shopifreaks.com
[email protected]
PS: What does a baby computer call his father? … Da-ta!
PPS: Don't forget to show me some love on Google and Product Hunt. Thanks!