Happy 4th of July! I hope that my US readers had a great holiday today and enjoyed the long weekend.
Before we get started — Who are you? What do you do for a living?
Hit reply to this e-mail and let me know. I like to know who's on the other side of this newsletter so that I can best serve you with weekly content.
When you first joined this newsletter, my welcome message asked you to introduce yourself, and many of you did, but many others did not. But to be fair, you didn't know me back then. Whereas now, you read my newsletter religiously and we're practically best friends. So if you haven't already done so, please take a moment to hit reply and introduce yourself. Thanks!
In this week's 76th edition of Shopifreaks, I've got stories for you about how social media is transitioning into social commerce – a trend which we've seen a lot of in the past year.
I also cover some new e-commerce features on Google, as well as upcoming changes to online banking giants. Plus an in-depth look at livestream commerce in China, which is coming to the West faster than we know it.
All this and more in this week's edition of Shopifreaks. Thanks for being a subscriber!
PS: For news between newsletters, follow Shopifreaks on Twitter and LinkedIn.
---
Stat of the Week
76% of shoppers search online for reviews and better prices before buying in store. 60% make price comparisons at other retailers on their phone before purchasing products. — According to Adobe Commerce.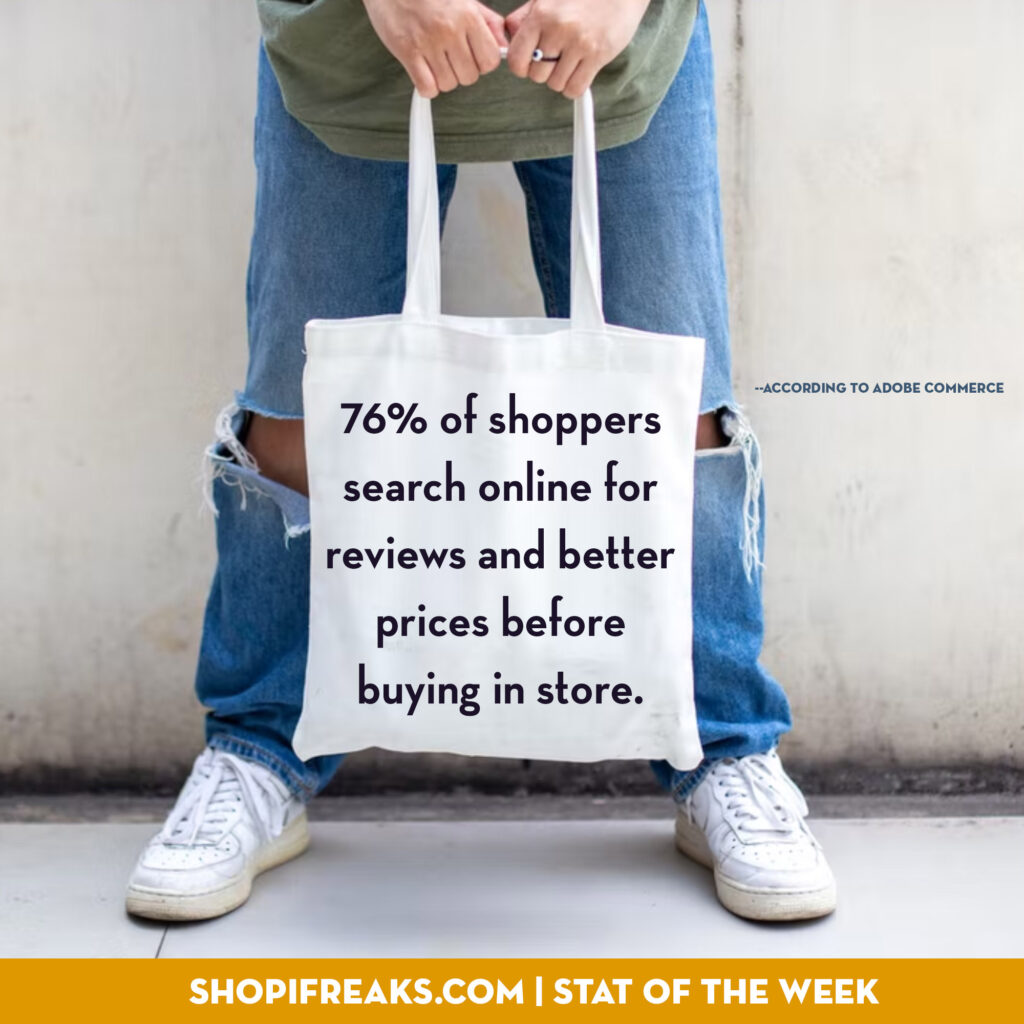 Share it on Twitter & LinkedIn
---
1. TikTok is testing a Shop feed tab
TikTok is testing a dedicated "Shop" feed tab in Indonesia that lets users browse and purchase products like clothing and electronics. (View that link to see some screenshots of the tab.)
The tab appears next to the "Following" and "For You" tabs in the app's home screen and includes a search bar and links to shopping categories like Beauty, Women's Wear, Electronics, and more. It also indicates when products offer perks like Free Shipping.
It also includes a cart icon and menu links for orders (to keep track of previous orders), messages (presumably to correspond with sellers), vouchers (displays coupons), address and payment.
The Shop tab currently serves as a hub for products being sold in TikTok Shop, which is only available in Indonesia, Vietnam, Singapore and the UK at the moment.
TikTok did not say if or when the Shop feed tab will be brought to other markets.
In October, I reported that TikTok is building an e-commerce marketplace to take on Alibaba and Amazon. The platform will allow creators and independent merchants to sell their products directly through TikTok without the use of a 3rd party integration like Shopify. They've been testing various direct e-commerce features since then.
TikTok could be on the verge of creating the world's greatest product discovery platform, or they could be in the process of creating a marketplace filled with AliExpress and Wish.com junk. Much is yet to be determined about the execution of their shopping features, or whether they can hold onto talent long enough to build a worthwhile shopping experience.
---
2. Pinterest's New C-E-commerce-O
After 12 years, Pinterest's co-founder, Ben Silbermann, is stepping down from his role as CEO, and the company is replacing him with Bill Ready, a former Google commerce executive.