Happy 4th of July! I hope that my US readers had a great holiday today and enjoyed the long weekend.
Before we get started — Who are you? What do you do for a living?
Hit reply to this e-mail and let me know. I like to know who's on the other side of this newsletter so that I can best serve you with weekly content.
When you first joined this newsletter, my welcome message asked you to introduce yourself, and many of you did, but many others did not. But to be fair, you didn't know me back then. Whereas now, you read my newsletter religiously and we're practically best friends. So if you haven't already done so, please take a moment to hit reply and introduce yourself. Thanks!
In this week's 76th edition of Shopifreaks, I've got stories for you about how social media is transitioning into social commerce – a trend which we've seen a lot of in the past year.
I also cover some new e-commerce features on Google, as well as upcoming changes to online banking giants. Plus an in-depth look at livestream commerce in China, which is coming to the West faster than we know it.
All this and more in this week's edition of Shopifreaks. Thanks for being a subscriber!
PS: For news between newsletters, follow Shopifreaks on Twitter and LinkedIn.
---
Stat of the Week
76% of shoppers search online for reviews and better prices before buying in store. 60% make price comparisons at other retailers on their phone before purchasing products. — According to Adobe Commerce.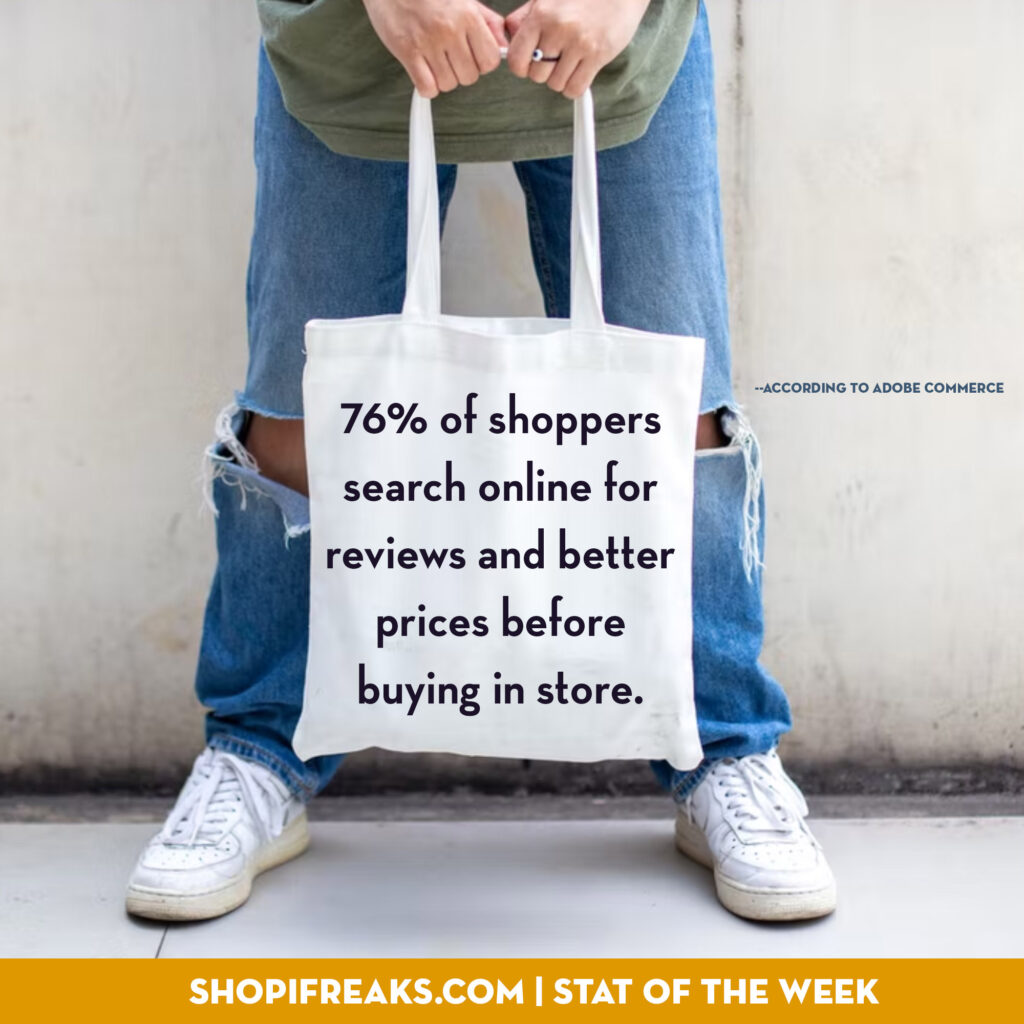 Share it on Twitter & LinkedIn
---
1. TikTok is testing a Shop feed tab
TikTok is testing a dedicated "Shop" feed tab in Indonesia that lets users browse and purchase products like clothing and electronics. (View that link to see some screenshots of the tab.)
The tab appears next to the "Following" and "For You" tabs in the app's home screen and includes a search bar and links to shopping categories like Beauty, Women's Wear, Electronics, and more. It also indicates when products offer perks like Free Shipping.
It also includes a cart icon and menu links for orders (to keep track of previous orders), messages (presumably to correspond with sellers), vouchers (displays coupons), address and payment.
The Shop tab currently serves as a hub for products being sold in TikTok Shop, which is only available in Indonesia, Vietnam, Singapore and the UK at the moment.
TikTok did not say if or when the Shop feed tab will be brought to other markets.
In October, I reported that TikTok is building an e-commerce marketplace to take on Alibaba and Amazon. The platform will allow creators and independent merchants to sell their products directly through TikTok without the use of a 3rd party integration like Shopify. They've been testing various direct e-commerce features since then.
TikTok could be on the verge of creating the world's greatest product discovery platform, or they could be in the process of creating a marketplace filled with AliExpress and Wish.com junk. Much is yet to be determined about the execution of their shopping features, or whether they can hold onto talent long enough to build a worthwhile shopping experience.
---
2. Pinterest's New C-E-commerce-O
After 12 years, Pinterest's co-founder, Ben Silbermann, is stepping down from his role as CEO, and the company is replacing him with Bill Ready, a former Google commerce executive. 
Ready most recently oversaw Google's shopping and payments efforts, and prior to that served as COO of PayPal.
Given his background in e-commerce, it's expected that this appointment means Pinterest will be making some moves in the e-commerce market to monetize its 400M+ monthly users.
Ready indicated as much on his LinkedIn post which read in part, "In the next phase of our journey, we will help people engage more deeply with all the inspiring products and services they find on our platform so they can build their best lives. As someone who has spent most of my career in commerce and payments, it's so clear to me that Pinterest has the opportunity to build something unique—something special."
It's unclear yet what direction into e-commerce Ready will take Pinterest — whether it be further into ads and discovery or deeper into operating as it's own independent marketplace like TikTok. (Or something else entirely.)
In March, I reported on Pinterest's new commerce feature would allow users in the U.S. to complete transactions within the app using Shopify API.
And in October, I reported that PayPal was in talks to buy Pinterest — but that never happened.
I had commented at the time that during the past few years, Pinterest hasn't been able to figure out what they are. Are they a social media platform? A visual search engine? A shopping marketplace? An advertising channel? They've had an on-again off-again relationship with content creators, particularly affiliate marketers, and many have left the platform due to the instability of the traffic that the platform has offered.
Perhaps the new CEO can help solidify what the platform is (and isn't) and create a straighter path forward towards e-commerce. Unlike Instagram and Facebook, the platform is already a place where users go to discover new products, so e-commerce fits naturally into the fold. Everyone's known that for a while now, but Pinterest hasn't yet been able to capitalize the platform to its full e-commerce potential.
---
3. China's Douyin App is crushing livestream commerce
Livestream commerce has blown up in China in the past few years. There are over 600M livestream users in China, a number that has increased close to 50% since 2020, partly due to the pandemic. China's livestreaming e-commerce market size is expected to rise to over $165B in 2022.
Franklin Chu of SmartBrief took an in-depth look at Douyin (aka: China's TikTok) and how it stacks up against rival livestream commerce platforms in China. I'll highlight some of his findings below:
Douyin reported having 86.8% of its users livestreaming content in China and its users spent at least 89 minutes watching videos on the platform each day.
Douyin livestreams over 9 million sessions per month, with gross merchandise value (GMV) growing 3.2 times year-over-year.
Each Douyin anchor has their own style, image and a fixed audience base, and some anchors even make their live room into a trademark.
Douyin vs Taobao:
The biggest difference between Taobao livestreaming and Douyin livestreaming is that Taobao users typically have shopping needs, whether vague or specific.
Taoboa users tend to have a shopping-related reason when they access the app — to browse, search, and purchase — and watching livestreaming is not a very high-frequency behavior.
Whereas Douyin users want to be entertained, so they are prone to make purchases quickly and buy on impulse.
There are a large number of anchors on Douyin, and consumers who love to watch livestreaming will also come into contact with different kinds of livestreaming rooms.
Whereas the vast majority of Taoboa traffic is concentrated in the top anchors. The platform's mid and micro anchors do not have sizable traffic and fan bases, and the overall number of anchors is relatively small compared to Douyin.
Douyin vs WeChat:
WeChat Channel has two major advantages: 1) establishing trust in the private domain (a company's own database for consumer outreach), and 2) accumulating users' data.
The viewing rate of WeChat Channel livestreaming with reservation is over 50% and the repurchase rate exceeds 60%.
WeChat Channel is more focused on social attributes and acquaintance relationships, contrary to Douyin, which is entertainment focused.
The loyalty between the anchors and users of WeChat Channel is currently not as high as Douyin.
According to Research And Markets, China's livestreaming market is anticipated to reach $76.42B in the US by 2025. For brands looking to succeed in China's retail market, livestreaming e-commerce is already an integral part of the omnichannel marketing strategy that cannot be ignored.
---
4. Google is testing new e-commerce features
Google has been on a roll lately with releasing new e-commerce feature. In May I reported on the company's new e-commerce strategy and features, as revealed in their Google Marketing Live event.
Well since then, Google has been testing a even more e-commerce features including:
Pros & Cons Snippets – A pros & cons snippet has appeared in some product related search results. Remarkably, in the instances where pros and cons were cited, the source webpage made no mention of the word "'pro" or "con", which means that Google is coming up with the list by itself.
The feature makes sense. Amazon summarizes reviews to display trends in words used. Now that Google is getting more into e-commerce, it'll do the same in product results.
Google has not released any information about how the pro/con snippets work and if publishers will be able to use structured markup to populate their own pros and cons lists, or if the search engine will combine pro / cons content from multiple sources. And if so, which source will earn the link placement.
Product Material in Ads – Google is also testing a dynamic keyword insertion feature for Google Shopping Ads where it inserts the product material into the search query. For example, an Apple Watch band that comes in multiple colors could display as "Gold Apple Watch band" depending on the search query.
For the moment, there's no rhyme or reason to which products Google picks to edit, however, it's been noted that doing so has increased CTR.
Black / Latino / Veteran / Women-Owned Businesses – Lastly Google has recently added a new "Discover" filter to the Google Shopping search side bar to filter shopping results by Black-owned, Latino-owned, Veteran-owned or Women-owned businesses. Where's my "Jewish-owned business" filter?!
In March, I reported that Google unveiled a filter to show visitors products sold in "smaller stores". The feature was announced last year and has started to roll out in the U.S. These new filters appear alongside the smaller store filter.
---
5. Volt shuts down
Volt Bank, the first exclusively online bank to obtain an Australian banking license, is shutting down just four years later. The neobank will return its roughly A$113M deposits to its 6,000 customers and sell its mortgage book comprising of A$80M, after failing to raise sufficient funds to support the business.
What's wild is that only a year ago, Volt raised $85M, with mortgage broker Australian Finance Group (AFG) paying $15M for an 8% stake in the bank. Volt then returned to the market this February with hopes of raising another $200M, but were unable to acquire the investment.
Who burns through $85M in less than one year? For an online bank with no physical locations and little overhead (relatively speaking), that investment could have provided a decade of runway. Fintech startups have grown too accustomed to cheap and widely available capital at over-inflated valuations over the past few years, but those days are gone — as exemplified by Klarna who is currently working to raise $650M at a $6.5B valuation, down from a $45.6B valuation last year.
Volt was one of four original neobanks that Australian regulators approved since 2018, when misconduct in the banking industry caused the country to loosen its rules for new banking entrants. The report card for those neobanks has not been very stellar.
Xinja failed in December 2020 after mishandling its spending.
86 400 was acquired by National Australia Bank in February 2021.
Volt is shutting down.
Judo is about to be the only one left. It went public in 2021 and posted double-digit growth in net interest income and gross loans and advances for its fiscal H1 2022.
Neobanks have had a tough time turning a profit, and with interest rates rising, capital investment is freezing up. These factors, combined with Australia tightening up its banking requirements, could be the end of a short era for neobanks in the country.
---
6. PayPal ends Friends & Family payments for business accounts
Starting July 28th, only personal PayPal accounts will be able to receive funds via the Friends & Family transaction method. Business accounts will no longer be able to receive these types of fee-free payments.
There are two ways to send money on PayPal:
1) Friends & Family – designed for paying back friends for dinner or giving a cash birthday gift. There is no fee involved, but also no fraud protection.
2) Goods & Services – intended for purchasing products and services from a business. There are fees involved for the seller, and protections in place for the buyer.
Many businesses and small sellers encouraged their customers to pay them via the Friends & Family method to avoid transaction fees, but now that practice is coming to an end.
With this new change, US business accounts won't be able to accept fee-free personal payments anymore, and business owners will need to create a personal account to receive money fee-free from friends and family.
PayPal said that the change will drive consistency on the platform and remove confusion around which payments are eligible for buyer and seller protections. PayPal did not mention whether their mobile app would allow business users to easily switch between business and personal accounts.
I understand the reason for the move, but I'm curious what the outcome will be. Will small sellers merely switch their PayPal accounts to personal and avoid fees all together? Will business users actually create a second personal account, or merely use a different payment app for sending money to friends and family?
In the end, even though it means some PayPal users will be paying more fees, it does add a layer of buyer protection for consumers who didn't know that their purchases weren't protected when sending money to businesses in this manner.
PayPal announced at the same time that seller fees are going up from 2.89% + $0.49 per transaction to 2.99% without an additional flat fee. This will be better for microtransactions of which the $0.49 flat fee was disproportional.
---
7. Amazon cancels / delays warehouse plans
Amazon has canceled or delayed plans for at least 13 facilities in its distribution network this year in Texas, Florida, Louisiana, Tennessee and California.
Earlier this year, Amazon acknowledged that it overbuilt its warehouse footprint to account for an unprecedented rise in demand during the pandemic, resulting in an additional $6B in costs, and now the company is delaying some warehouse openings so it can reduce 2022 operating expenses following a rocky Q1 earnings report.
Amazon has around 1,200 active distribution facilities totaling nearly 376M in ground-level square feet. In comparison, Walmart has 197 active facilities totaling about 145M square feet, Target has 52 facilities with 58M square feet of space, and Deliverr, now owned by Shopify, has 80 warehouse locations across the US.
---
8. Other e-commerce news of interest this week
---
9. This week in seed rounds, IPOs, & acquisitions….
---
What'd I miss?
Shopifreaks is a community effort and I appreciate your contributions to help keep the rest of our readers in the know with the latest happenings in e-commerce. Whenever you have news to share, you can e-mail [email protected] or hit reply to any of my newsletters.
You can also mention @shopifreaks on Twitter or submit posts to r/Shopifreaks on Reddit, and I'll curate the best submissions each week for inclusion in the newsletter.
Thanks for being a Shopifreak!
If you found this newsletter valuable, please share it with your colleagues and help us grow.
See you next Monday!
PAUL
Paul E. Drecksler
www.shopifreaks.com
[email protected]
PS: Videos about dyslexia are trending on Twitter. Some have gone rival.
PPS: Don't forget to show me some love on Google and Product Hunt. Thanks!