Click here to skip down to the full list.
Intro
I started the Shopifreaks E-commerce Newsletter in January 2021 because I wished it existed. Other retail and tech newsletters I subscribed to covered the big headline news, but they often missed the smaller e-commerce stories that had significant impact on my business.
For example, Morning Brew or The Hustle aren't covering Shopify's platform-wide affiliate program, TikTok adding a product marketplace, BigCommerce being the first to integrate with Buy with Prime, Temu launching in the US, WhatsApp integrating with JioMart, or Goldman Sachs expanding its partnership with Apple — but those stories are important to those of us in e-commerce.
E-commerce is a world of its own, and the industry needed a newsletter that spoke our language. (I know what BNPL is and don't need to read "Buy Now Pay Later" in every headline. And I know that BigCommerce is a leading e-commerce platform; you can skip the company description! LOL.)
Since launching Shopifreaks, I've published 122 139 143 weekly editions and counting. I haven't missed a week yet!
CEOs and executives from the largest e-commerce platforms and marketplaces in the world read my newsletter religiously each week. Professors have told me that they use my newsletters in their university classes. (I even guest lectured at a university e-commerce class.) And some companies even use my newsletter in their weekly meetings!
Shopifreaks has become a real community. Every week, readers hit reply to my e-mails and share their thoughts after reading the latest edition — and I love that. More than just a newsletter, it's become a conversation.
My readership has grown organically each week through readers sharing the newsletter with their networks, which is the best compliment I can receive as a publisher. I love how one week I'll see a new subscriber sign up with their work e-mail address, and then a week later several more subscribers from the same business come through! Several readers have told me that they discovered my newsletter through a co-worker forwarding it to them or sharing it in their Slack channel.
If you're in the e-commerce industry, thanks for giving Shopifreaks a sub. Be sure to hit reply to my welcome e-mail and introduce yourself, so that I know who's on the other side of the e-mails.
All that being said, Shopifreaks serves a purpose, but doesn't try to be the end all be all of e-commerce and retail news and learning, so I've compiled a list of some of the best e-commerce newsletters on the web to help fill in the gaps.
I don't subscribe to all of these newsletters, and neither should you. This curated list is simply to save you the time and energy of scouring the web for e-commerce newsletters on your own. The list is in no particular order (other than putting mine first).
What'd I miss? E-mail [email protected] if you know of any other e-commerce newsletters that I should add (or remove) from the list. Your feedback matters.
#1 Shopifreaks E-commerce Newsletter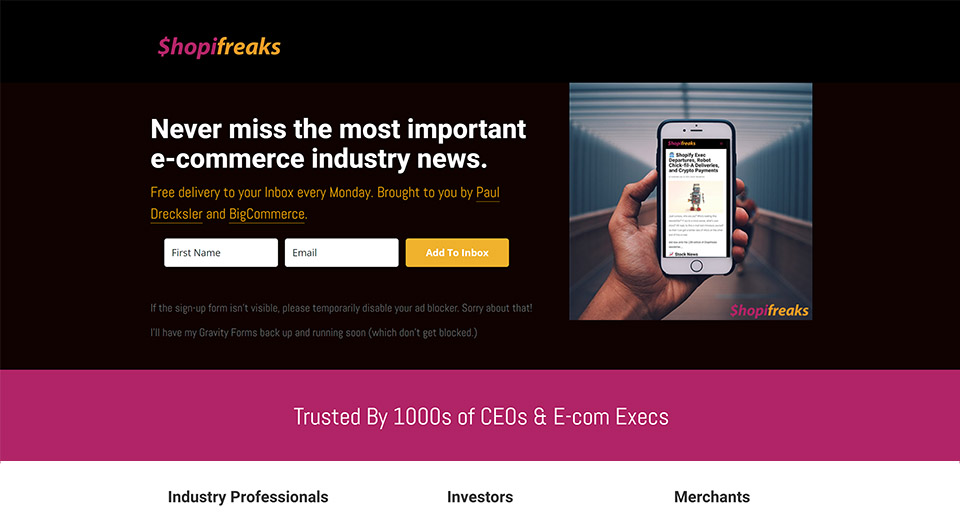 Never miss the most important e-commerce industry news. Free delivery to your Inbox every Monday. (This is my newsletter, and I think you'll love it.)
#2 What's Next by Rick Watson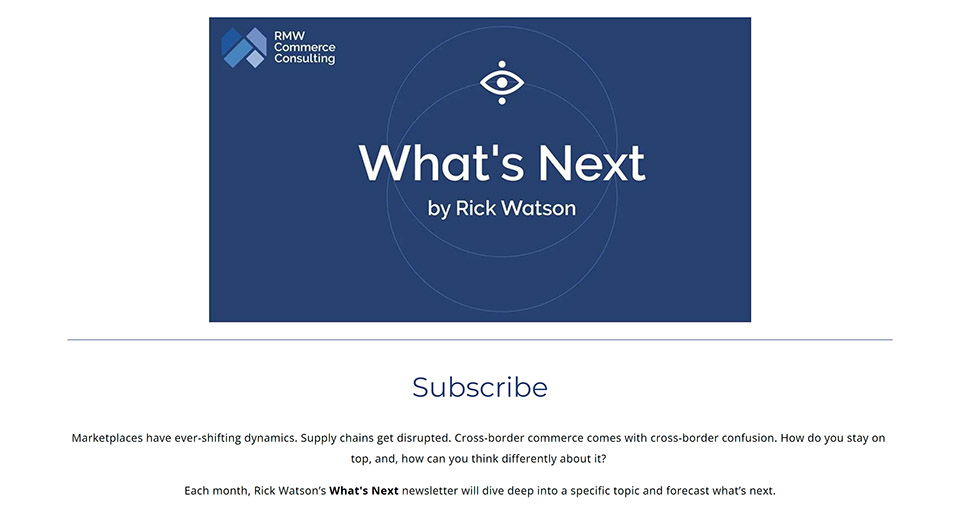 Each month, Rick Watson will dive deep into a specific topic and forecast what's next.
#3 DigitalCommerce360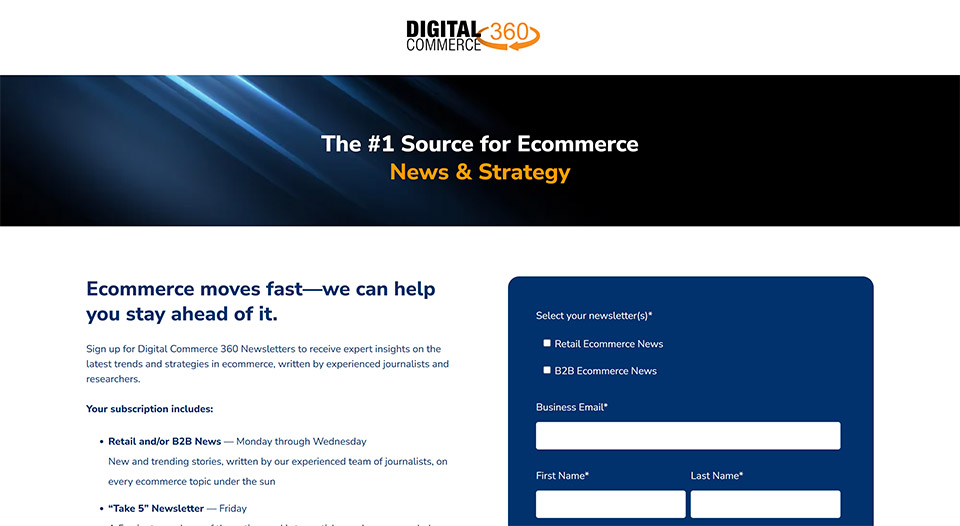 Stay up-to-date on breaking ecommerce news and the latest trends.
#4 Retail Dive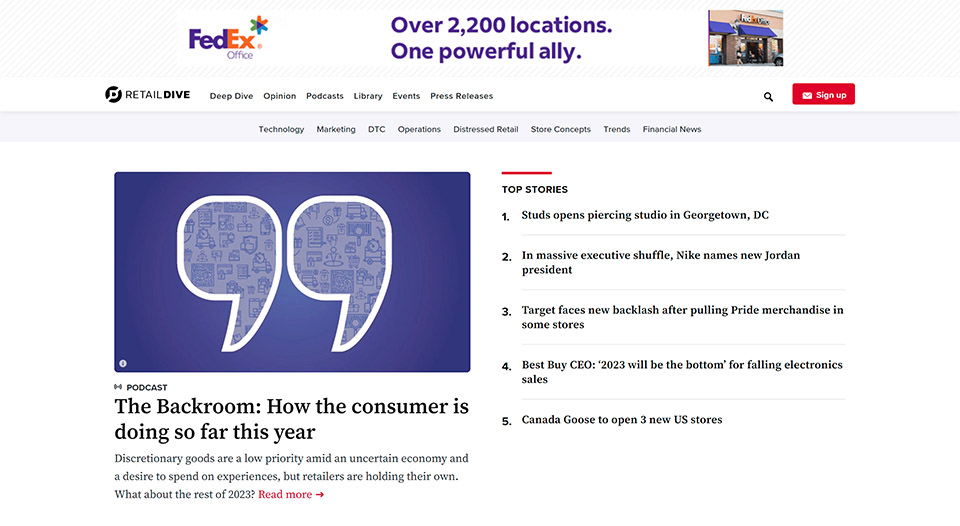 Get the latest retail industry news & intel in your inbox for free.
#5 DTC Drive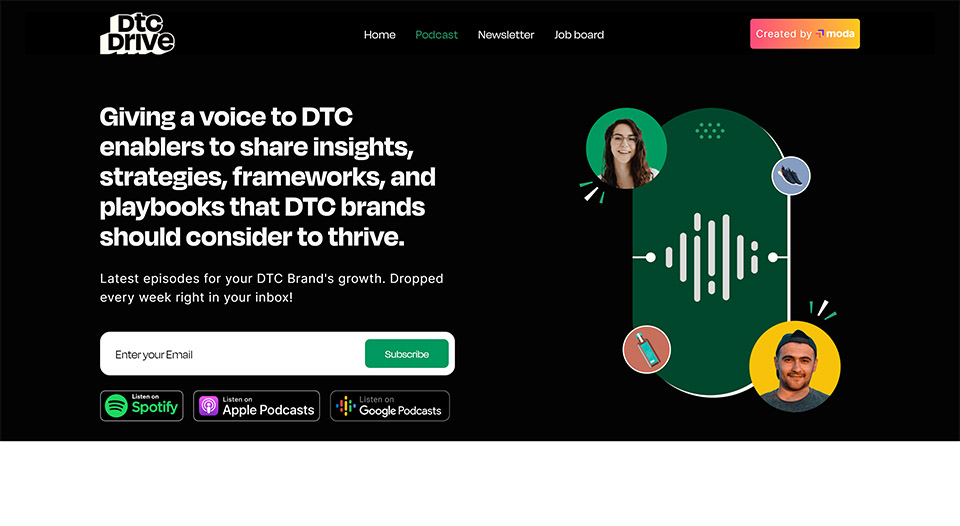 Dive deep into the strategies and tactics used by successful DTC e-commerce businesses to create an exceptional customer experience and achieve success as a result.
#6 The Marketers Playbook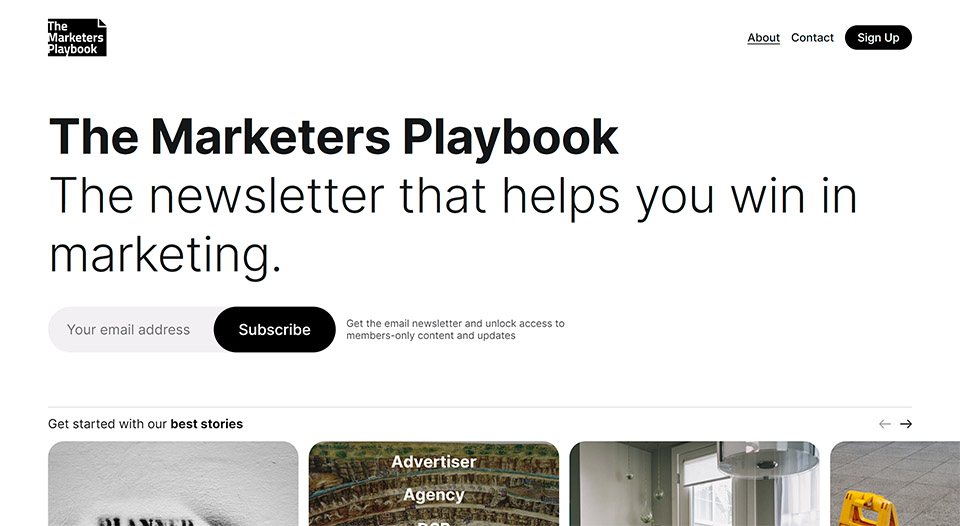 In-depth articles on the latest marketing strategies, consumer psychology, and more, giving you the edge you need to win in marketing.
#7 EcommerceBytes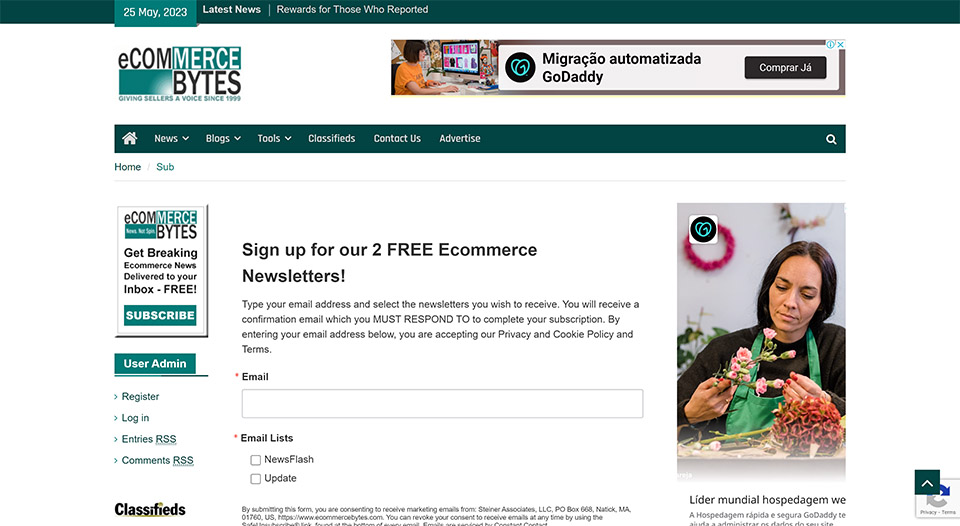 Helping online sellers stay informed since 1999.
#8 The Real Heroes of Ecommerce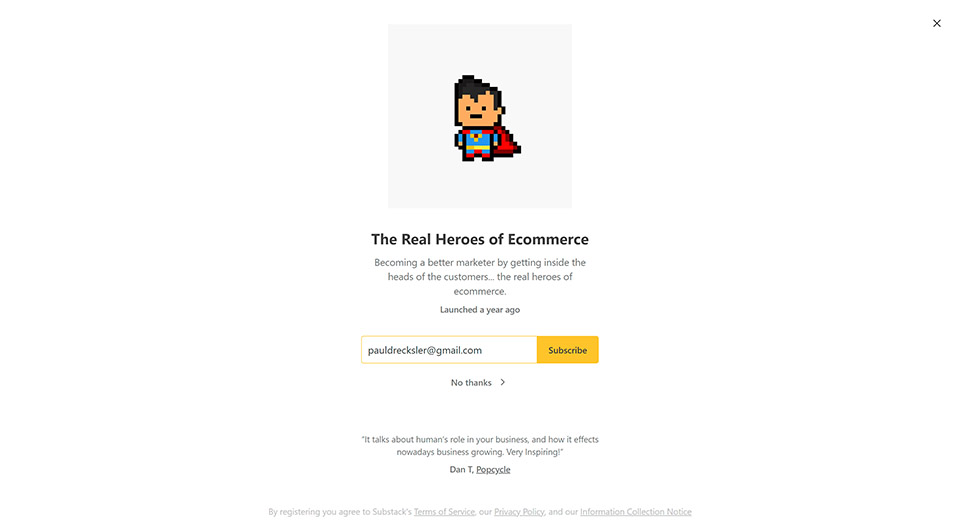 Interviews with regular people about marketing and shopping online by Jason Shepherd.
#9 Brand Builder University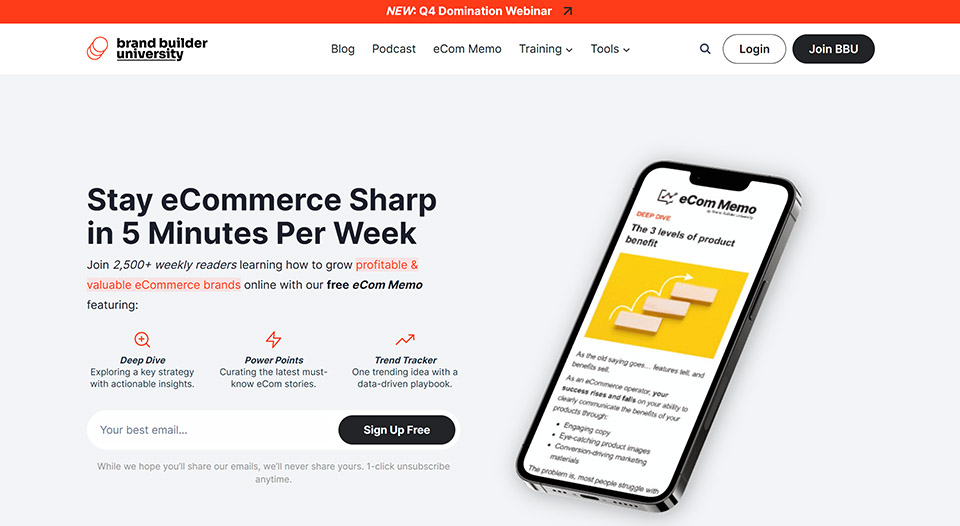 Ben & Bec Donovan feature the latest e-commerce insights, strategies, & special offers to empower entrepreneurs to build valuable e-commerce brands. They also publish an active podcast called The Brand Builder Show.
#10 DTC Newsletter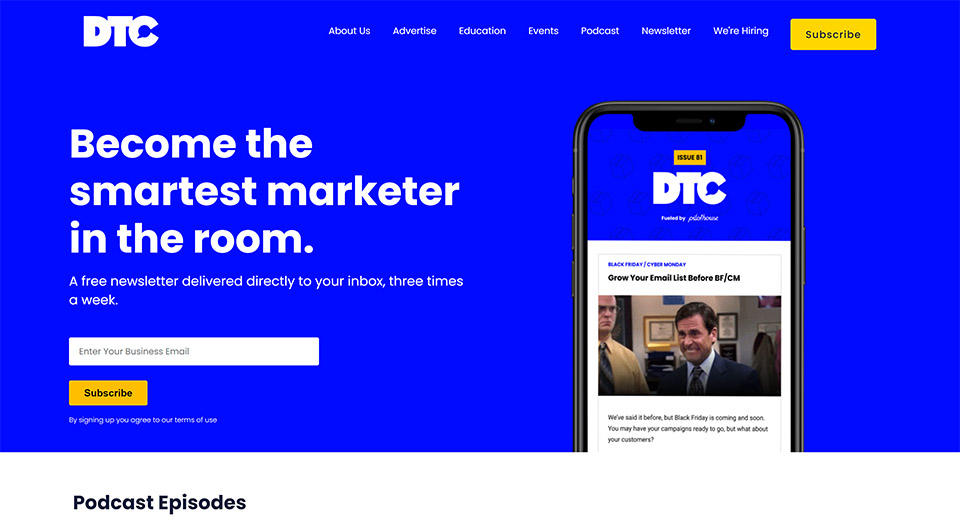 Become the smartest marketer in the room.
#11 Ecommerce Insider (by Business Insider)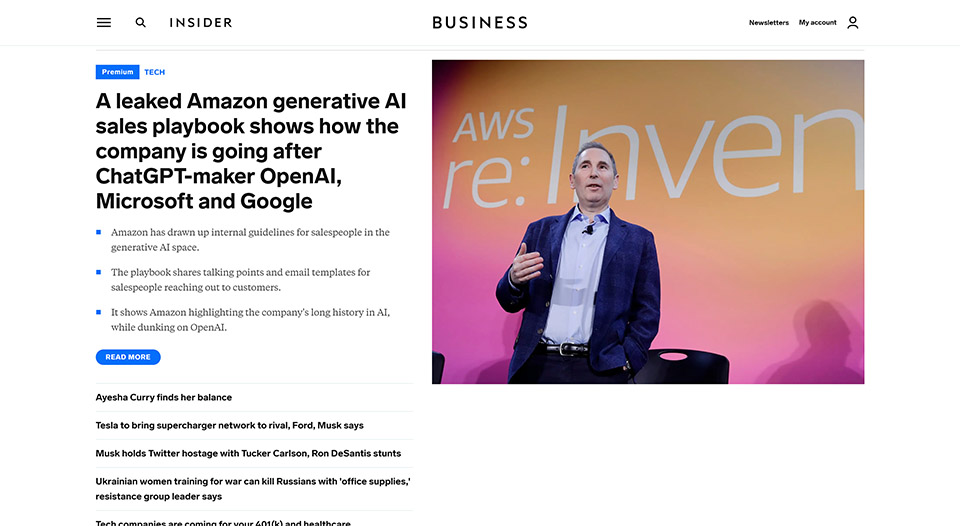 Get daily updates on the latest trends in e-commerce.
#12 Ecommerce Mag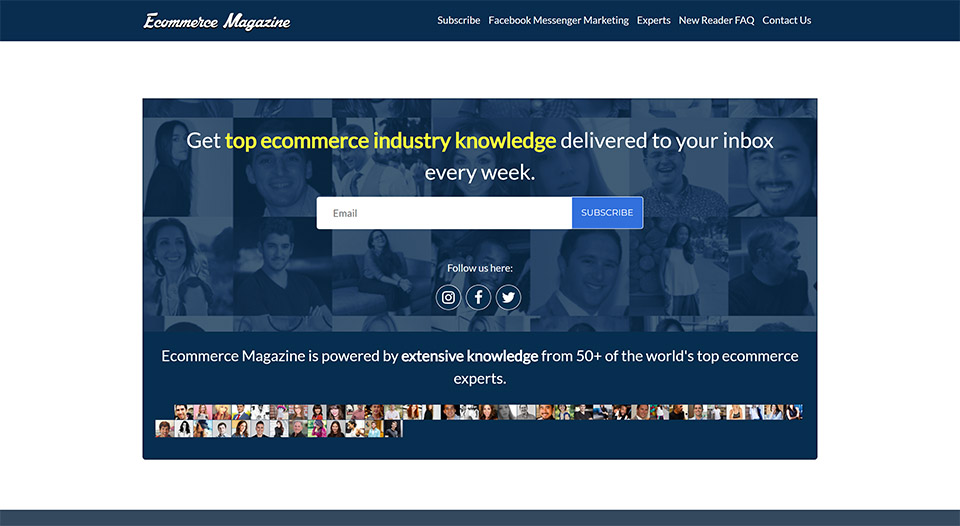 Extensive knowledge from 50+ of the world's top ecommerce experts.
#13 Practical Ecommerce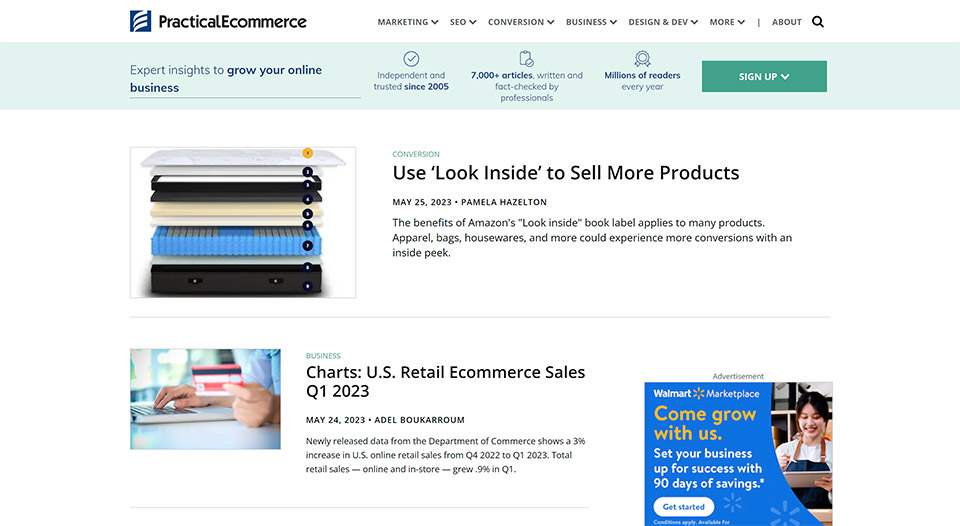 Helping merchants improve their online businesses with expert articles, commentary, guides, webinars, and podcasts.
#14 Ecommerce Skinny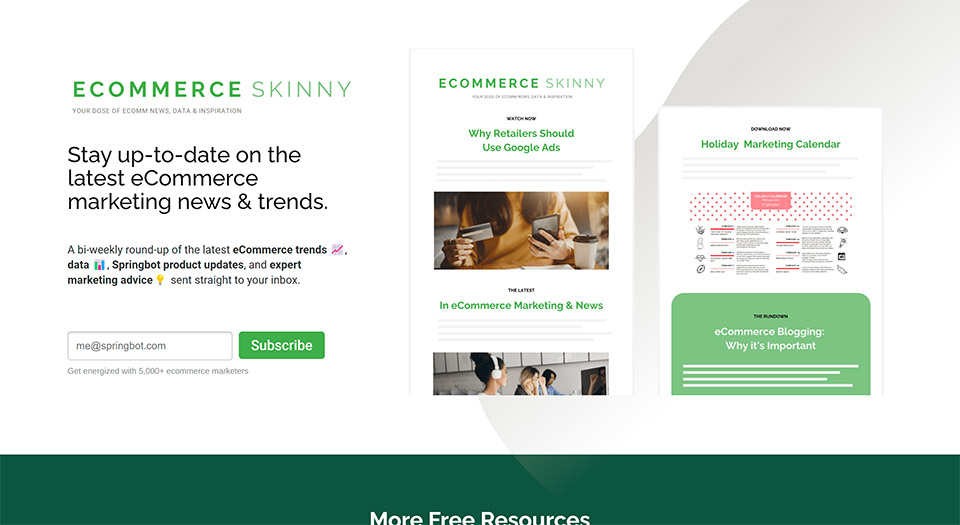 Ecommerce Skinny – Stay up-to-date on the latest eCommerce marketing news & trends.
#15 Page One Newsletter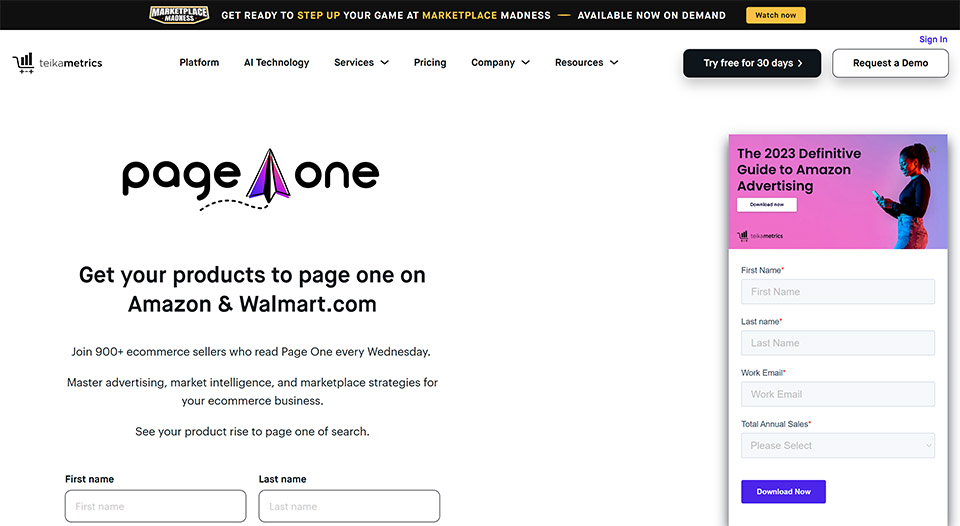 Master advertising, market intelligence, and marketplace strategies for your ecommerce business.
#16 D2CVille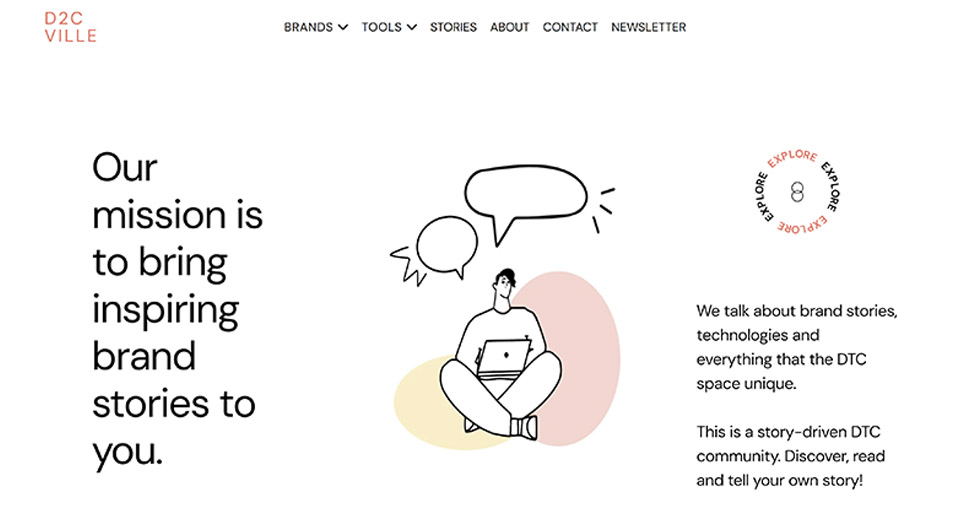 D2CVille's mission is to bring inspiring brand stories to you. Their newsletter talks about brand stories, technologies, and everything that makes the DTC space unique.
#17 Ecommerce Nurse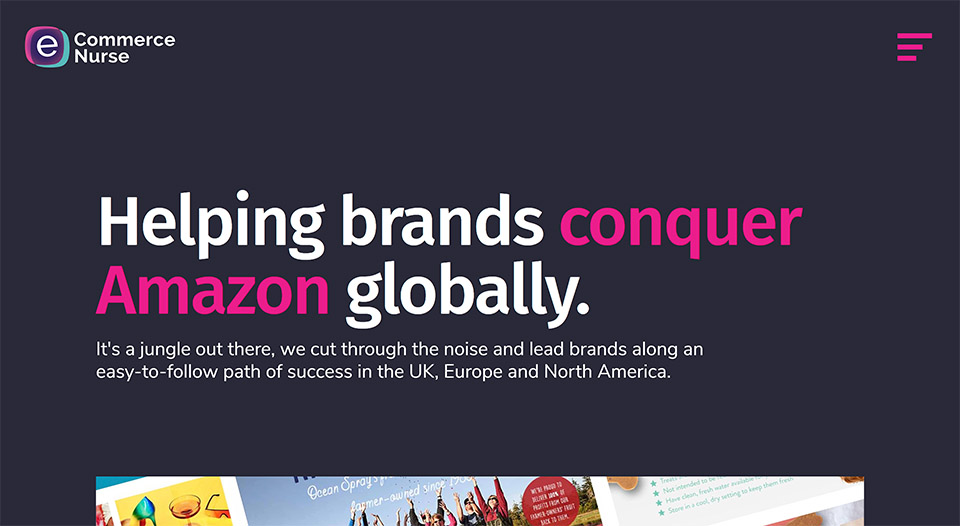 Marketing, Advertising, Account Management and Retail Consulting for Amazon Sellers and Vendors.
#18 OSF Digital Strategy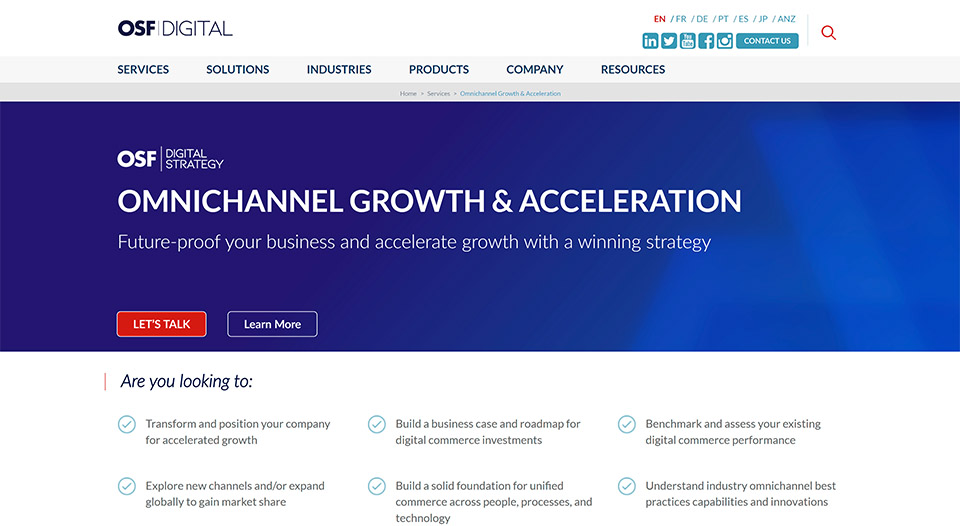 We have helped hundreds of retailers, brands and B2B organizations build, grow and accelerate their businesses.
#19 Martech
Content and experiences that educate, engage and support you in your daily mission as a professional working at the intersection of marketing and technology.
#20 Retail Brew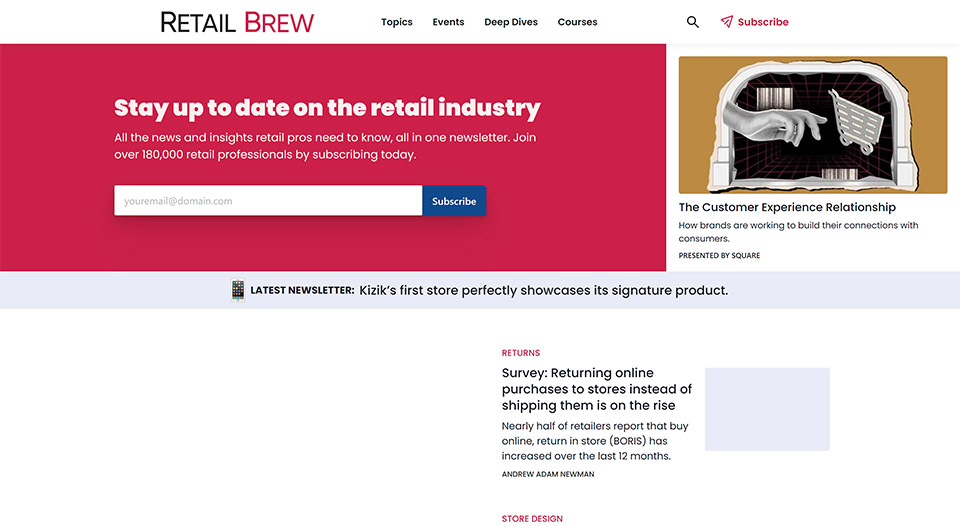 Get the daily email that makes reading the news actually enjoyable. Stay informed and entertained, for free.
#21 E-commerce Insider (by Sana Commerce)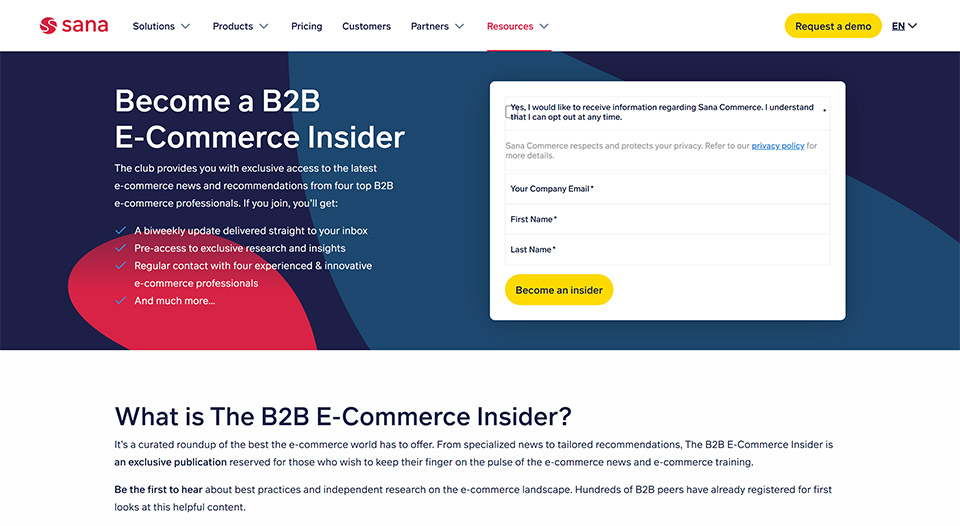 Exclusive access to the latest e‑commerce news and recommendations from four top B2B e‑commerce professionals.
#22 Multichannel Merchant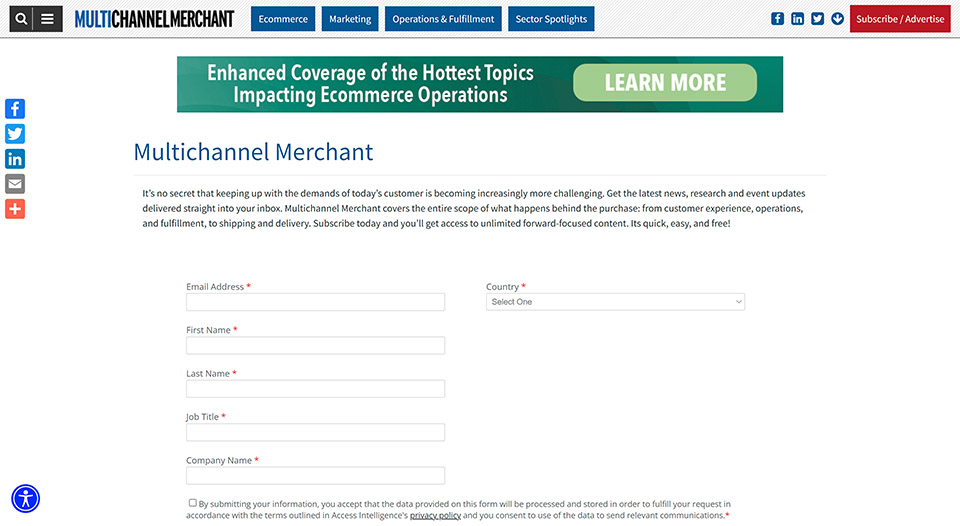 Covers the entire scope of what happens behind the purchase: from customer experience, operations, and fulfillment, to shipping and delivery.
#23 Shopify Retail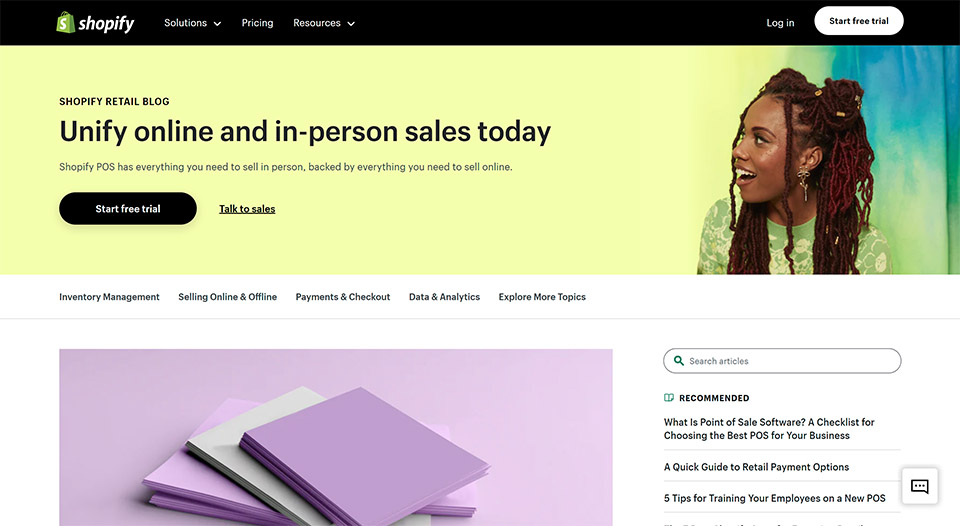 Get exclusive behind-the-scenes merchant stories, industry trends, and tips for creating standout brick-and-mortar experiences.
#24 ChannelX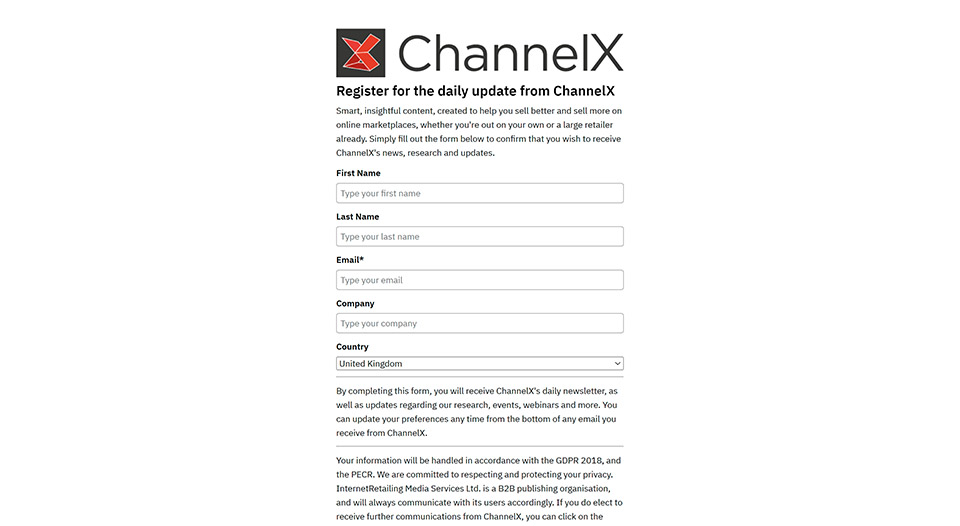 Smart, insightful content, created to help you sell better and sell more on online marketplaces, whether you're out on your own or a large retailer already.
#25 The Skimm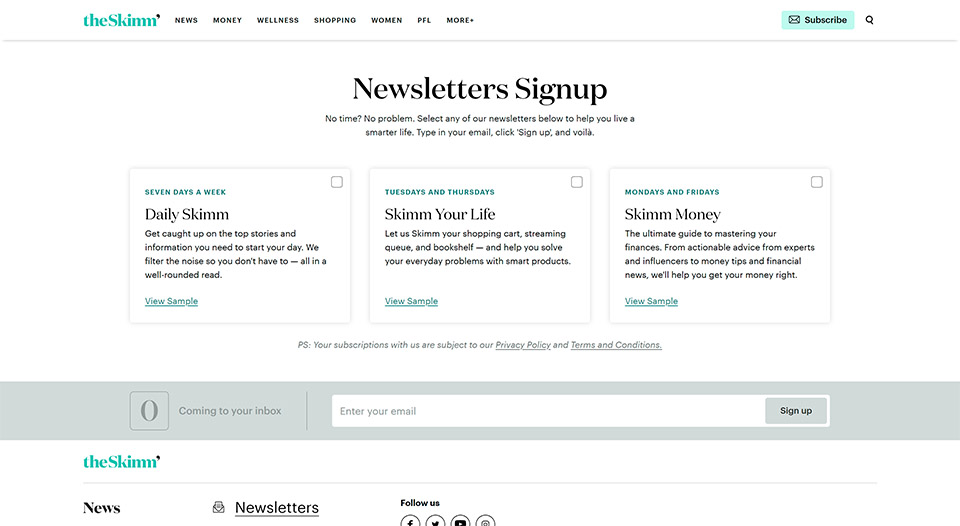 Connects the dots on how the day's biggest stories affect your life.
#26 Webretailer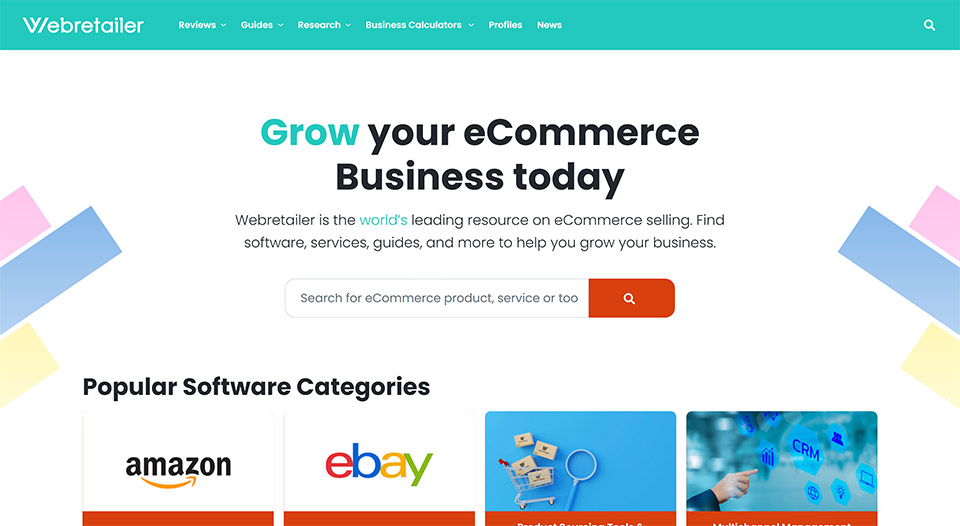 Exclusive emails with news from Web Retailer and special offers, free downloads, webinars and events from the best companies in the ecommerce industry.
#27 Inside Ecommerce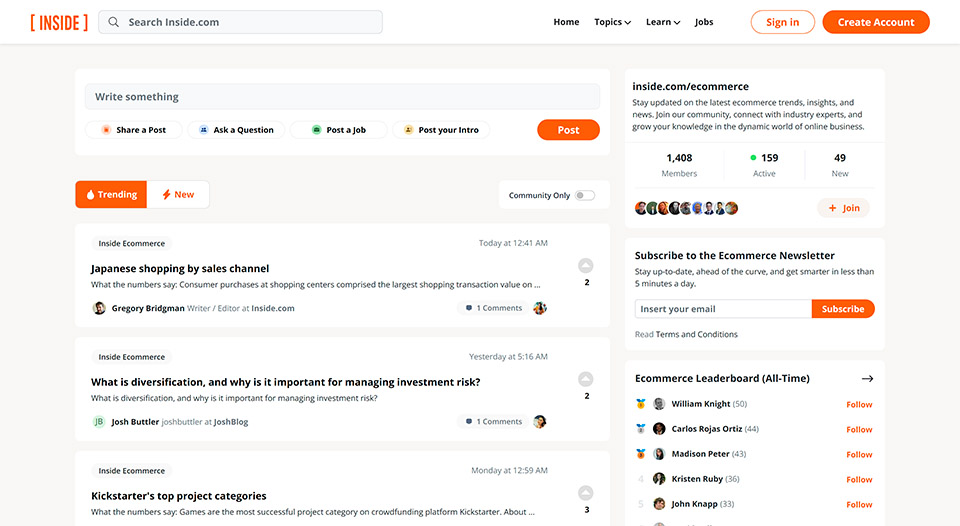 Stay up-to-date, ahead of the curve, and get smarter in less than 5 minutes a day.
#28 NRF Retail Insights & Trends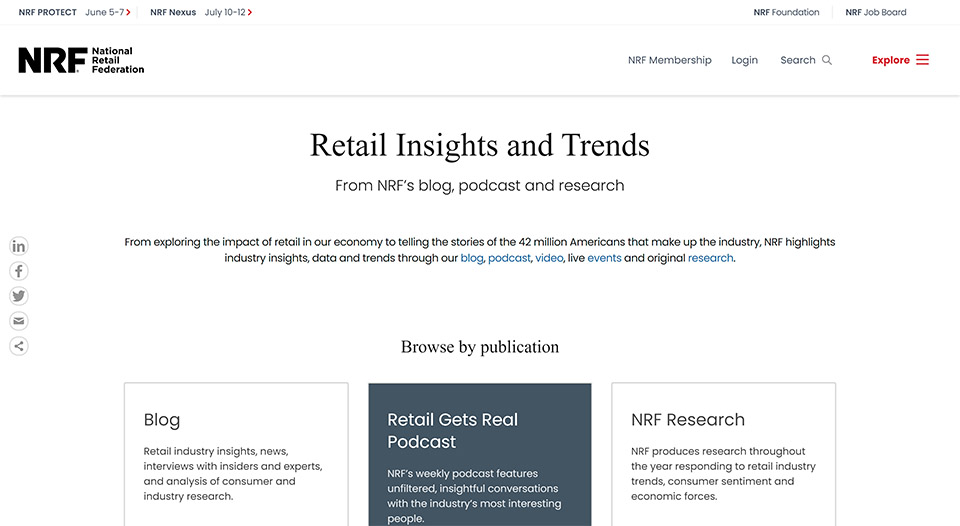 Stay up to date on retail industry news by getting the latest headlines each day.
#29 Social Media Today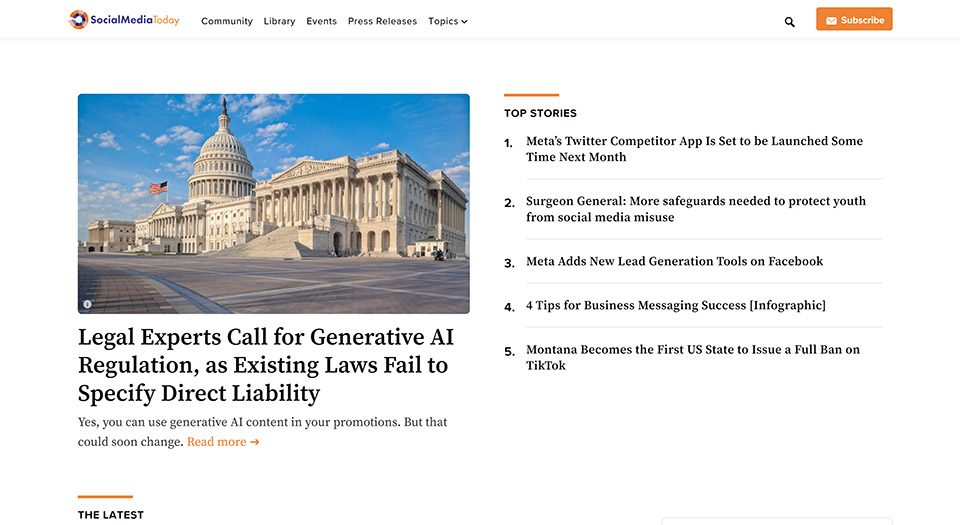 Original analysis on the latest happenings in the social media industry.
#30 The Hustle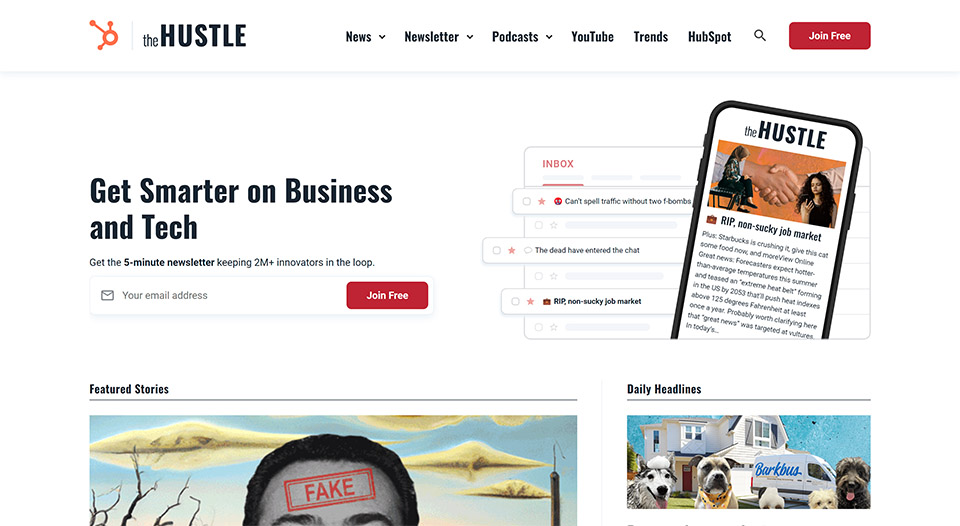 Daily business and tech in 5 minutes or less.
#31 Brand Growth Experts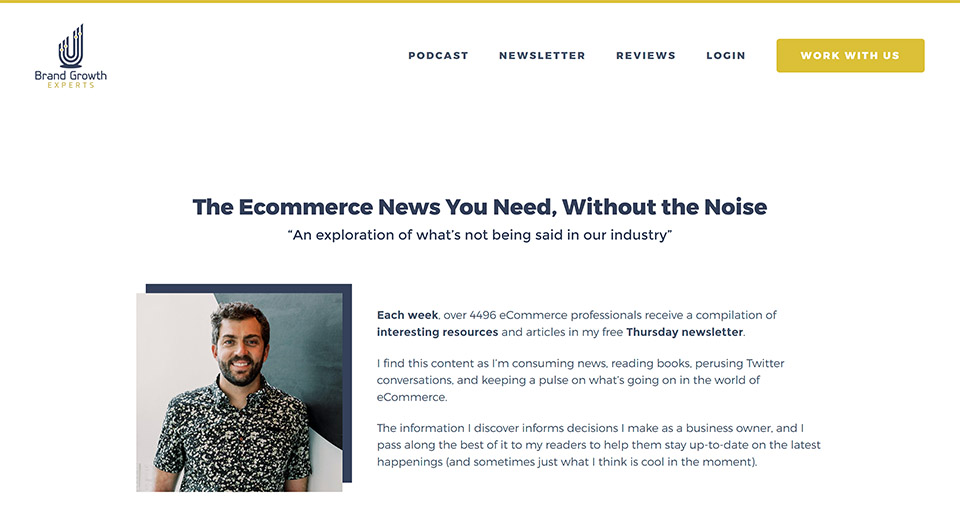 The ecommerce news you need, without the noise.
#32 Second Marathon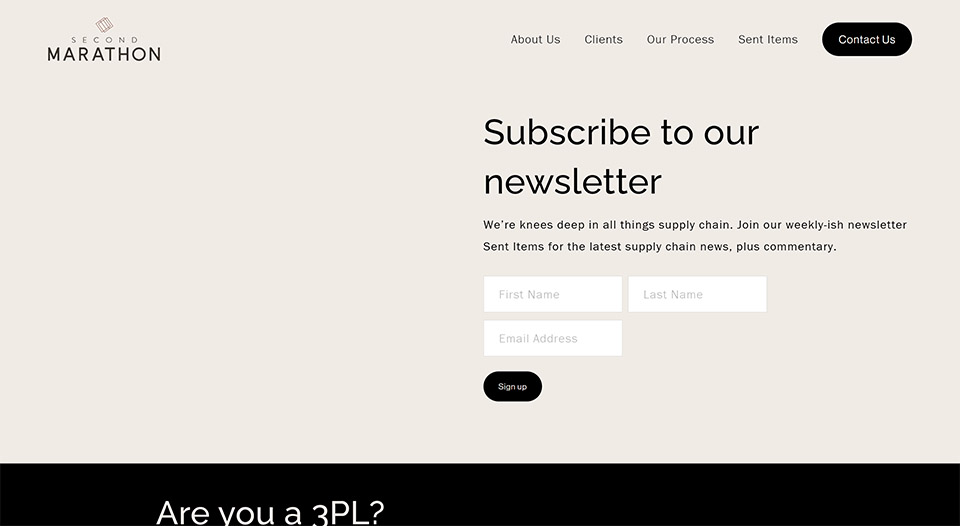 The latest supply chain news plus commentary, straight to your inbox on a weekly-ish basis.
#33 A Better Lemonade Stand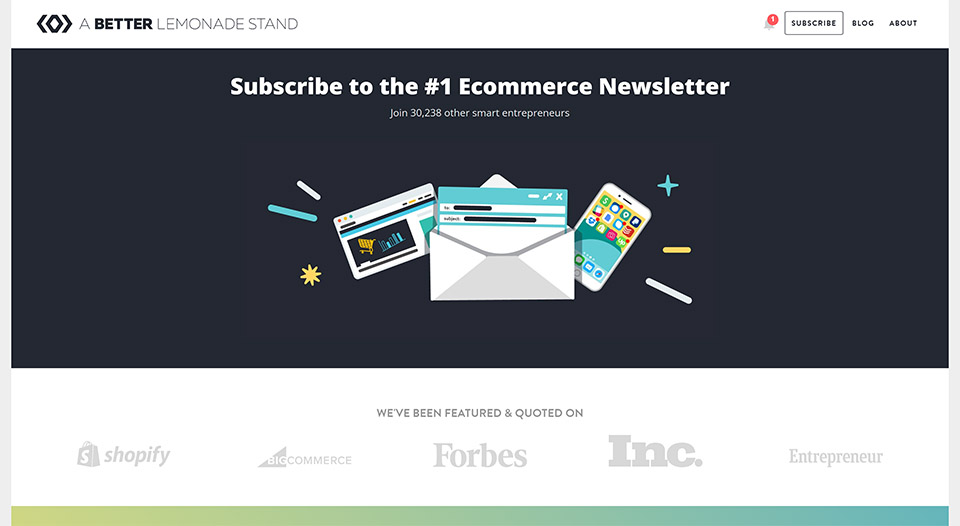 Get exclusive content, tutorials, resources and tools to help you build, launch, and grow your ecommerce business.
#34 For The Love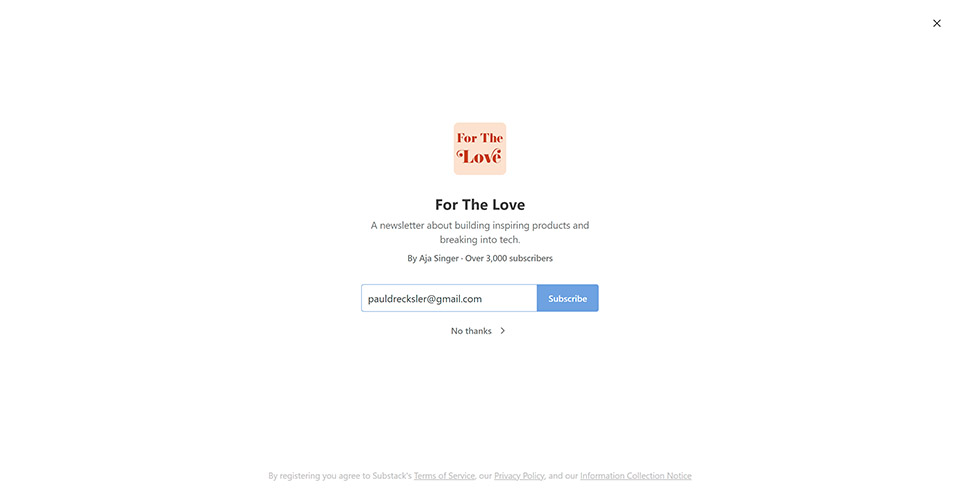 For The Love – A newsletter for people who love branding, DTC trends, and mission-driven companies aiming to make the world a better place.
Thanks for visiting, and thanks for giving Shopifreaks a sub too! If you know of any other great e-commerce newsletters, e-mail [email protected].