I'd like to welcome Maverick, a powerful way to create AI generated personalized videos at scale, as our newest Shopifreaks Rewards Partner.
By sharing your referral link found at the bottom of this e-mail, you'll earn $10 per subscriber you refer to Shopifreaks, which you can redeem in $50, $100, and $250 increments with Maverick or our other partners.
In this week's edition of Shopifreaks, I cover the FTC's latest moves to combat Amazon's alleged anti-trust business practices. I also share Andy Jassy's top four priorities for the company, as well as a surprising stat about their new drone delivery project.
Plus stories about new EU tax rules for marketplaces, social verification getting pricey, Apple's BNPL launch, and cloud markets cooling down. 
All this and more in this week's 107th Edition of Shopifreaks. Thanks for subscribing and sharing!
PS: I recorded a podcast with David Rastatter and Dave Malda over at Jitterbit, where we debated 2023 predictions from industry experts. A worthwhile listen on your next commute.
Poll of the Week 🗳️
"Should the FTC move forward with its anti-trust lawsuit against Amazon this year?"
(See story #1 below for more details about the lawsuit.)
---
Last Weeks Poll Results: Last week I asked if you felt that Shopify went too far with their 33% price hike on subscriptions. 39.4% voted that Shopify went too far with the price increase, with 23.9% indicating that Shopify shouldn't have raised their prices at all. 19.7% voted that the new price was fine, and 16.9% said the price hike made no difference. [View Poll]
Stat of the Week 📈
100 million households are sharing their Netflix passwords worldwide. – According to Netflix
The news about Netflix's new password-sharing rules were not well received by subscribers, causing Netflix to backpedal a bit, saying that they don't apply in the US, yet.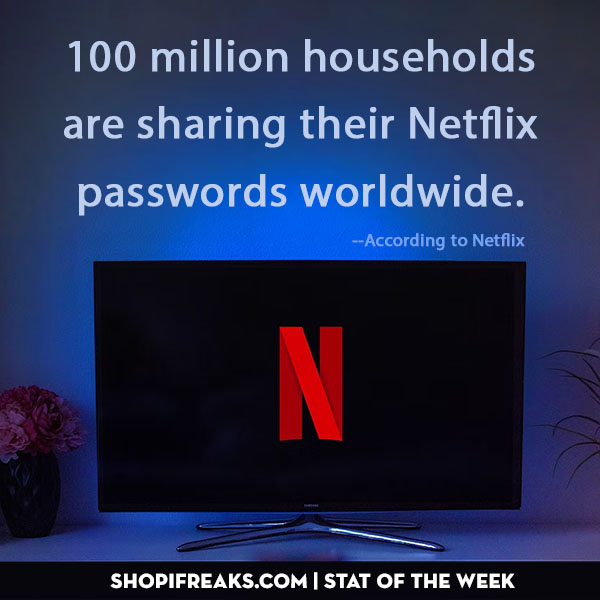 Share this week's stat on Twitter & LinkedIn.
1. FTC preparing lawsuit against Amazon
The FTC is preparing an antitrust lawsuit against Amazon, targeting a wide array of its business practices including:
Prioritizing its own products over those of third-party sellers
Arbitrarily enforcing its merchant rules
Forcing merchants to use their logistics services
Forcing third-party merchants to agree to policies that lead to "artificially high prices"
Cancellation policies related to Amazon's Prime service
Amazon's $8.45B MGM studio deal
Amazon's $3.5B acquisition of 1Life Healthcare
Amazon's $1.65B deal to buy iRobot
Illegally intimidating striking workers
The lawsuit could be filed as soon as this spring, according to insiders familiar with the investigation.
Lina Khan has been aggressively going after tech companies since being sworn in as Chair of the Federal Trade Commission in June 2021 including:
Suing to block Microsoft's acquisition of Activision Blizzard
Challenging Meta over its acquisitions of Instagram and WhatsApp
Suing to block Meta from buying a VR startup
As a law student, she published a widely circulated essay called "Amazon's Antitrust Paradox" in 2017, arguing that Amazon's ability to use its size to undercut competitors does not justify its monopolistic practices, even if the outcome is lower prices to consumers.
Should the FTC sue Amazon? Take our Twitter poll and share your thoughts.
2. Jassy's top four priorities
Now let's take a look at some Amazon news outside the courtroom.
CEO Andy Jassy joined the company's earning call for the first time ever and shared the four areas he's most focused on now:
Efficiency – Amazon expanded its fulfillment center footprint in the past couple of years and also built out a transportation network "roughly the size of UPS" in that same time period, which means that now the company has to figure out how to optimize costs and make more efficient decisions.
Speed & Selection – Getting products to customers faster makes them happier and leads to higher conversion rates, and more product selection that can be delivered quickly leads to high customer satisfaction.
Pricing – Jassy feels that in the current economy, customers are "very conscious" about how much they're spending, which makes pricing an even more important factor.
Customer Experience – Jassy said that "being maniacally focused on the customer experience" will always be a top priority, and mentioned new services that Amazon has launched in recent years including Buy with Prime and RxPass as examples of that priority.
Amazon had a better holiday season than expected, with net sales up 9% YoY, but the company posted its first net loss ($2.7B) since 2014, reversing a trend of rising annual profits. However Amazon noted a $12.7B pre-tax valuation loss in 2022 due to its investment in Rivian.
A few other points of interest from Amazon's Q4 earnings report:
Q4 was the least profitable Q4 ever with Amazon earning $0.3B, a drop from $14.3B a year earlier.
International net sales saw an 8% decline YoY after a 22% growth in 2021.
AWS also grew less than the year before. More on that in story #8 below.
2022 Q4 marked the beginning significant layoffs which continued through the new year
Last but not least in Amazon problems this week, the company was cited again by federal regulators for gamifying its warehouse system because it encourages working at a fast pace that could result in worker injury.
3. BigCommerce Expands Multi-Storefront (Sponsored)
BigCommerce announced today that Multi-Storefront, which was previously only available for enterprise merchants, is now available as a self-service feature and accessible to all merchants directly within their BigCommerce store.
BigCommerce merchants of all sizes now have the ability to manage multiple storefronts to grow sales in new regions, streamline operations for multiple brands, and customize various customer segments to drive global growth.
Typically managing multiple storefronts requires merchants to work with separate back-ends, which can be time consuming and expensive to manage. However BigCommerce's Multi-Storefront consolidates the management of multiple stores into a single dashboard with built-in enterprise-grade tools, allowing merchants to streamline operations, save on implementation and deliver tailored shopping experiences across brands.
Meghan Stabler, senior vice president at BigCommerce, said, "This release of Multi-Storefront affirms our ongoing commitment to equip merchants of all sizes with easy-to-use growth tools and the unprecedented platform performance they need to move forward faster to scale."
"An unstable economy is the perfect time to make smart digital tech stack investments that are agile, functional and flexible to build business resilience for long-term growth and success. Progressive retailers open to innovation will be well-positioned to succeed regardless of an unforeseeable economic landscape."
Learn more about Multi-Storefront from BigCommerce.
4. EU to tax marketplace sales
As part of a new EU law, online marketplaces like Amazon, eBay, and Vinted will now have to report sales made on their platforms to the tax office for sellers who make over €2,000 or have reached 30 transactions per year. Rather than reporting to the country where the marketplace resides, platforms will now have to report to the EU-country where the seller is located.
In addition, user information will also have to be reported including the seller's name, DOB, address, bank details, and tax ID.
This is part of the new Platform Tax Transparency Act (DAC7), which is designed to support tax transparency and prevent tax evasion and avoidance by people who sell online.
The new law is in effect as of this year, however over half of EU member states did not meet the deadline for implementing it in their national laws, so the date has been pushed for another 2 months.
As you might recall, the US was supposed to implement similar laws this year, requiring e-commerce platforms to send tax forms to customers who have transactions of more than $600, but the IRS gave a one-year reprieve after pushback from the platforms.
In December 2022, I also reported on the INFORM Act, which included a piece of legislation that will require online marketplaces like Amazon, Etsy, and eBay to verify high-volume sellers in an attempt to help curb retail crime. Among other things, the legislation requires marketplaces to verify information like bank account, tax ID, and contact details for sellers who make at least 200 unique sales and earn more than $5,000 a year.
5. Social verification ups the ante
Twitter is still on a quest to revamp its checkmarks, with the company reportedly planning on charging businesses $1000/month to continue having the gold mark. Is it gold now? If they won't pay the charges, the checkmark will be removed from their profiles.
Additionally, the company is planning to charge an additional $50/month to let accounts linked with the business profile have their badges displayed. That way, for example, @BigCommerce and @BigCommPartners and @BigCommerceDevs would end up paying $1100/month instead of $3000/month.
The pricing structure, according to company messages, is still being finalized and could change.
In other attempts to recoup lost advertiser revenue, Twitter will remove free access to its API and replace it with a basic paid tier, starting Feb 9th. Thanks for the 7 days heads up, says everyone who used the free tier!
Andy Baio, former chief technical officer of Kickstarter, posted to Mastodon that removing the free API tier will kill "every free fun and useful thing ever built with it: bots, games, mashups, visualizations, research projects, autoposters, autoblockers, deleters, and so much more."
However before we give Twitter too much heat, they aren't the only social media company looking to monetize previously unmonetized verifications…
Instagram is thought to be working on a subscription similar to Twitter Blue, according to recent code snippets discovered by developer Alessandro Paluzzi, who said that words like "Paid", "Blue", and "Badge" are visible in Instagram's code, which could mean the feature is coming soon.
Paid verification is a BAD idea.
Social media companies need to remember that the verification of public figures and businesses is for the benefit of their users — so that they know they aren't being fooled by tweets / posts from satire or fake accounts.
Charging for verification does nothing but worsen the user experience, as not every business can afford or will want to pay for the paid verification.
The problem that Twitter and Instagram are trying to solve with paid verification (other than revenue loss for Twitter) is that at some point, the blue checkmark became a coveted indicator of success as a public figure. Those who had the blue checkmark had "made it" and were worthy of public recognition, so everyone wanted it.
However that organic demand around the blue checkmarks shouldn't be monetized, as doing so defeats the purpose of helping users determine which accounts are legitimate and which are not.
A happy medium solution would be to continue normal verification for large businesses and public figures, and offer a one-time application fee for everyone else who want to get verified.
That way the "not-quite public figure" crowd who want the coveted blue checkmark can still obtain it for a nominal fee, but the user experience isn't worsened for everyone else who ideally would like to know whether they're talking to the real Ryan Gosling or a fan page with a shirtless photo.
6. Amazon drones made less than 10 deliveries since launch
A new report indicates that Amazon's drones have made less than 10 deliveries in their first few weeks of operation.
After nearly a decade of working on the program within Prime Air division, Amazon said in December that it would start making deliveries by drone in Lockeford, CA and College Station, TX. However by middle of January, as few as seven houses had received packages by drone, according to The Information.
Even I've flown my drone more times than that since December!
The report suggests that the FAA has been blocking Amazon's drones from flying over roads or people unless the company gets permission on a case-by-case basis.
Amazon obtained its FAA certification, but the agency has since imposed restrictions which hadn't been revealed until now, and has largely rejected Amazon's requests to loosen the limitations.
Amazon's drones are heavier at 80 pounds than the ones operated by Wing and Walmart, which weigh between 10 and 40 pounds, and that may be a concern for FAA officials.
In comparison, Wing has carried out more than 300,000 deliveries, and as I reported last month, Walmart made over 6,000 drone deliveries in 2022.
7. Apple BNPL coming soon (again)
Apple announced that its BNPL solution is in beta testing among Apple employees and will soon be available to the public in the US.
In June 2022, I reported that Apple was officially launching its BNPL offering in the US later that year, which would allow customers to shop with Apple Pay and split purchases into four payments every two weeks, but the launch was delayed.
Now Tim Cook has confirmed that the Apple Pay Later is set to be "launching soon". Cook did not provide a specific date for the launch, however, the company is expected to release iOS 16.4 and other software updates in the spring, which may include the first beta of BNPL.
Apple Pay Later will reportedly have zero interest and no fees applied and will enable Apple Pay users with a simplified and secure way to amortize the cost of purchases over the course of six weeks.
The service will be built into the Apple Wallet and allow users to make payments easily within the wallet. It'll be available wherever Apple Pay is accepted online or in-app.
Rather than work with a bank, lending partner, or 3rd party BNPL firm like Affirm or Klarna, Apple is convinced that it has the data and technology needed to underwrite, approve, and fund the loans in-house without risking big losses. And they're probably right! I can't imagine that any startup BNPL firm has anywhere near the amount of data that Apple has on its customers.
They've certainly got the money to fund the loans too. Apple's cash on hand for the quarter ending Dec 31, 2022 was $48.3B.
Like a bank, Apple will use credit reports and FICO scores to check consumers' financial standing, however, it will also use its Apple ID data for identify verification and fraud prevention — which is something that no other BNPL service can come close to offering.
In other BNPL news, Frasers Group announced that it will also be rolling out its own BNPL offer called Frasers Plus, which will allow shoppers to borrow up to £2,000 and be able to split and defer payments across its portfolio of retail brands including Flannels, Sports Direct, House of Fraser, and Jack Wills. The payment plans start at three months, breaking purchases into three interest-free installments, with optional periods of 6, 12, 24 or 36 months available at an interest rate up to 29.9% APR.
8. Cloud market cools… slightly
The top three US cloud infrastructure providers — Amazon, Google, and Microsoft — showed in their fourth-quarter results that the market is cooling down.
Google Cloud – Revenue growth slowed to 32% in Q4 2022 from almost 38% in Q3, with revenue of $7.32B trailing estimates of $7.43B.
AWS – Revenue growth decelerated to 20% from 27%, with sales of $21.4B falling short of projected $21.87B.
Azure – Revenue growth slowed to 31% from 35%, though Microsoft doesn't disclose the size of the business in dollars.
Amazon's finance chief, Brian Olsavsky, told analysts that large companies worked with AWS in Q4 to trim their spending because of the difficult economy, and that he's not expecting that trend to reverse anytime soon.
Customers are also showing less confidence in longer-term deals. Amazon reported $110.4B in contracts with original terms longer than one year, a decline from 57% growth in Q3.
In the past 20 years, AWS grew from $0 to over $76.5B in annual sales, with projections of surpassing $100B in 2023. Google Cloud and Microsoft show similar growth trajectories since their launches as well.
That type of hyper growth can't last forever! Or can it?
With AI, VR, & AR taking over tech, the demand for storage and processing power is only going to get bigger. While growth might have pulled back a little bit as companies look to cut costs in the wake of a recession, I don't imagine the cloud market cooling down completely anytime soon.
9. Other e-commerce news of interest
Adam Driver is set to star in Squarespace's 9th annual Super Bowl ad, and they just debuted a teaser for the in-game commercial featuring multiple Adam Drivers. The video portrays a fictitious behind-the-scenes look from the shoot, featuring the "many sides" of Adam Driver.
---
UK's Financial Conduct Authority (FCA) blocked over 10k misleading advertisements on Facebook, TikTok, YouTube, Instagram, and Twitter as part of its effort to protect consumers from "finfluencers", aka: creators who focus on publishing financial and investment content. Sarah Pritchard, the FCA Markets Executive Director, said that they will continue tracking down creators promoting illegal investments on Facebook and other social media platforms.
---
The FTC issued a $1.5M fine against the online pharmacy GoodRx for sharing the private health data of its customers with Google, Facebook, and other third parties without consent. The company agreed to the settlement without admitting wrongdoing and also agreed to a ban from further sharing consumer health data with third parties for advertising.
---
Cash App launched a new feature called Cash App Savings to help consumers save more. The feature allows customers to save with a separate balance, set savings goals, and round up their purchases to add to their savings.
---
California's attorney general put mobile app developers on notice to either comply with the state's privacy laws and consumer opt-out requests, or get ready to pay hefty fines. The state has developed its own online tool that allows consumers to directly notify businesses that may have violated the California Privacy Rights Act (CCPA).
---
My Nametags, a London-based e-commerce website that sells name labels to 140 countries, has moved its EU base to Dublin post-Brexit. The simplicity of doing business in Ireland was a main factor for the decision, as the company and others like it await clear and stable long-term rules for trade between the UK and the EU.
---
Google launched an open beta for Discovery ads that use the [lifestyle_image_link] and [short_title] attributes to surface lifestyle images across Discover feeds, Gmail, and YouTube. Historically Google Merchant Center guidelines required that a product's primary image showcase the image against a white background.
---
Google also unveiled a new chatbot tool dubbed "Bard", which will be opened up to "trusted tester" starting today, with plans to make it available to the public in the coming weeks. CEO Sundar Pichai said, "Bard seeks to combine the breadth of the world's knowledge with the power, intelligence and creativity of our large language models. It draws on information from the web to provide fresh, high-quality responses."
---
PayPal is laying off 2,000 employees, or about 7% of its workforce, as part of a transformation that includes cost-cutting. The moves come about a year after PayPal reported earnings that had been impacted by inflation and a post-pandemic return to in-person shopping that created a difficult growth environment for the company.
---
Quicken is now letting users share their financial information with trusted parties via a new feature of its Simplifi app. The company boasts that spouses can share information for household budgeting, parents can help children develop healthy financial habits, and adults can help aging parents manage their finances.
---
Online retail in Germany shrunk 5% in 2022 according to Bevh, the German federal association for e-commerce, mostly due to a 9% dip in the sales of physical goods. However sales of digital services like travel and event tickets increased 40% over 2021.
---
JD.com is closing its e-commerce services in Indonesia and Thailand, after failing to gain traction against larger players like Alibaba, Shopee, and Tokopedia. The company said that it will continue to serve global markets, including SEA, through its supply chain infrastructure.
---
Consumers are expected to spend $25.9B on Valentine's Day this year, up 8% over last year. V-Day 2023 is expected to be one of the highest numbers on record for the holiday.
10. Seed rounds, IPOs, & acquisitions
Triple Whale, an Ohio-based startup that provides Shopify merchants with a single platform to bring together all their analytics into a single service, raised $25M in a Series B round from NFX, Elephant, and strategic participation from Shopify. The company saw 1,400% YoY growth with 5,000 brands now using the service and plans to launch new services using AI to help merchants generate ad copy and images.
---
Oro, a Los Angeles-based software company which provides open-source software for B2B e-commerce and CRM applications, raised $13M in a round led by Zubr Capital, bringing its total amount raised to $25M. The company will use the funds to continue developing its technology and expand its market presence in the US.
---
Fishbowl Inventory, a provider of ERP software for SMBs, acquired Sellware, a North Carolina-based provider of inventory and order management systems and marketplace listing solutions. Current Sellware users can expect no changes to their plans, and Fishbowl is actively working on integrating Sellware into their products for manufacturing and warehousing customers.
---
LeafLink, a NY-based wholesale cannabis platform, raised $100M in a Series D round led by CPMG, L2 Ventures, and Nosara Capital, at a $500M valuation, down from an $800M in 2021. The company also restructured its C-suite, promoting their current CEO and co-founder Ryan G. Smith to executive chairman and replacing him with a former WeWork co-CEO Artie Minson.
---
Zopa, a UK digital bank that's reached deposits of more than £2B, raised $93M in a round led by IAG Silverstripe after putting its IPO plans on hold. The funds will be used to meet the bank's capital requirements and support merger and acquisition dealmaking, including companies of similar size.
---
Iwoca, a German-British fintech that offers financing for self-employed and SMBs, extended its funding line by €50M, provided by Pollen Street Capital, bringing tis financing limit to €193M. Iwoca reached net profitability in Q4 2022 and has loaned over €4B since it was founded in 2012.
---
ShopUp, a Bangladesh-based B2B e-commerce paltform, raised $30M in debt financing from Lendable and The City Bank, bringing its total amount raised to over $200M, and marking Lendable's first investment in South Asia. The company will use the funds to support its expansion efforts, strengthen supply chain operations, and address the food waste problem in Bangladesh.
---
Netlify, a composable architecture front-end development platform, acquired Gatsby, its competitor behind the opensource GatsbyJS framework, for an undisclosed amount. Netlify says that it acquired Gatsby for its Valhalla Content Hub, a centralized data layer that helps businesses make their various data sources accessible through a unified GraphQL API.
---
GoLogiq, a mobile fintech serving SEA, announced its plans to acquire Nest Egg, a wealth management app that includes automated savings and investment tools, personalized investment strategies and tools for building portfolios and executing trades. The proposed transaction comes four weeks after GoLogiq and GammaRey, a financial solutions platform, finalized their merger.
---
Diferente, a Brazilian online grocery delivery platform for fresh organic produce, raised $3M in a round led by Caravela Capital, bringing its total amount raised to $7.4M. The new funding will help the company get its app launched, enter new categories, get its second phase of AI-powered customization underway this year, and add up to 30% more employees to its roster of 75 people.
---
OneSignal Inc., a customer engagement platform that enables mobile, web, e-mail, SMS, and in-app message push notifications for developers and marketers, extended its $50M Series C funding round with an undisclosed strategic investment from ServiceNow Ventures. The platform powers around 500k apps, or about 15% of the apps listed in the App Store and Google Play Store.
---
Marqeta, a California-based platform that enables companies to issue branded payment cards to their customers and employees, announced plans to acquire Power Finance Inc, a NY-based fintech startup that focuses on the payment card market, for $223M in cash, plus an additional $53M if an undisclosed performance milestone is met following the deal's acquisition. Marqeta will integrate Power Finance's technology with its payment card issuing platform after the acquisition completes.
---
Raylo, a UK startup that sells monthly subscriptions for phones, tablets, and laptops, raised £110M mainly in debt with a portion as equity, in a round led by NatWest and Quilam Capital. The company will use the funding to expand its list of products to a wider range of gadgets like e-bikes, as well as invest in its tech, including a platform called "Raylo Pay" that is embedded by third-party merchants for Raylo to power leasing services for them.
What'd I miss?
Shopifreaks is a community effort and I appreciate your contributions to help keep the rest of our readers in the know with the latest happenings in e-commerce. Whenever you have news to share, you can e-mail [email protected] or hit reply to any of my newsletters.
You can also mention @shopifreaks on Twitter or submit posts to r/Shopifreaks on Reddit, and I'll curate the best submissions each week for inclusion in the newsletter.
💖 Thanks for being a Shopifreak!
If you found this newsletter valuable, please leave a review on Google and share the newsletter with your friends and colleagues to help us grow. (Don't forget to use your referral link!)
See you next Monday,
PAUL
Paul E. Drecksler
www.shopifreaks.com
[email protected]
PS: Did you hear about Boeing's new invisible airplanes? I can't see them taking off.